Trends
Outdoor Trends 2023
Bora LOUNGE SET, Jardin de Ville.
Trends
Outdoor Trends 2023
Read on to see the hottest looks under the sun in 2023.
Good day, sunshine! Are you ready to throw open the windows and get out in the garden (or onto the balcony or into the backyard)? Of course you are! And this summer, you'll want to spend more time outside than ever, with decor, furnishings, accessories and materials that are just as sophisticated and beautiful as their interior counterparts. Whether you're planning an all-out backyard remodel or just looking to spruce things up, we've rounded up everything that's on trend for warm-weather outdoor living in 2023.
OUTDOOR FURNITURE
Dekko Alea 40 FIREPIT, Jardin de Ville.
COLOUR | Warm neutrals and hints of tonal greens in both furnishings and decor define summer 2023; the look is softer than black or white.
COMFORT | Furnishings emphasize relaxation and feature curved, embracing forms and a mellow feeling.
STYLE | The mood is Mediterranean: think of a relaxed lifestyle and outdoor dining; terracotta planters are key.
SEAMLESS TRANSITIONS | Outdoor furniture looks like indoor furniture.
"I love the juxtaposition in form that is a common theme in outdoor furniture this year. From different shapes stacked to create a sculptural look to oversize pieces, there's going to be plenty of style-forward furniture in 2023."
– PAULA COSSARINI, ARTICLE
Les Ensembliers DAYBED, Bosquet.
Calova SIDE TABLE, Article.
Vardo SIDE TABLE, Article.
OUTDOOR FEATURES
Classic S Series PERGOLA, SunLouvre Pergolas.
PRIVACY | We want structures that provide privacy and a feeling of sanctuary and escape, including fences, pergolas, privacy panels and lattice.
BIOCLIMATIC PERGOLA | Have it both ways with this trend: pergolas have operable roof louvres that close to shelter from the elements and open to let them in.
OUTDOOR FIREPLACES | Fireplaces, more formal than a firepit, are increasingly popular, although firepits continue to grow in popularity in both suburban and urban backyards.
BUILDING MATERIAL | Aluminum in place of wood is popular; the material is practically maintenance-free, offering increased longevity.
OUTDOOR ROOMS | Designing your property in a way that creates rooms or destinations is a trend. Imagine: a winding path that leads to a firepit, or an outdoor office area with Wi-Fi, work surface and shade.
"In 2023, trends in landscaping design and outdoor structures are moving toward the versatility and durability offered by the so-called bioclimatic pergola, unlike a wooden shelter with a fixed roof."
– FRÉDÉRIC PELLETIER, SUNLOUVRE PERGOLAS
KITCHEN SURFACES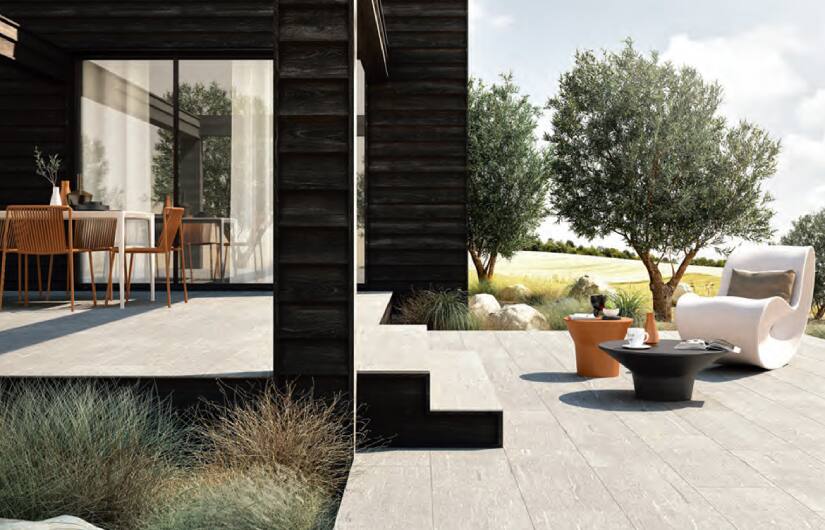 Moonstone, Vein White Nat, 12" x 24" TILE, Ciot.
PORCELAIN | Porcelain slab surfacing has taken off for outdoor use; the material is not affected by UV rays, is impervious to heat and is available in a wide array of colours, finishes and looks. Porcelain is also a popular material for outdoor kitchen backsplashes and column coverings.
MIXING MATERIALS | Combining materials (like quartz, porcelain and natural stone) on kitchen countertops and backsplashes adds style and a unique touch.
FAUX STONE | Stone look-alike materials are widely available in intriguing leathered or matte surfaces and earth-tone colours.
"An outdoor kitchen is an extension of your home, so the same attention is given to material choices outside for a harmonious look."
– KRISTINA PANZERA, CIOT
Dekton VK02 Avorio and VK04 Grafite SURFACES, Cosentino.
"Sustainability is now, more than ever, at the core of the design process and finish selections. Designers are looking for products that are both eco-friendly and aesthetically pleasing, as to not compromise their creative ideas and the final spaces."
– KARIM GUIRGUIS, COSENTINO
WATER FEATURES
In-ground vinyl-lined POOL, Pioneer Family Pools.
WELLNESS AT HOME | Interest has expanded beyond the recreational to the wellness benefits of owning a pool, hot tub or swim spa.
MAXIMIZING SPACE | Increasingly sophisticated designs maximize your outdoor space, especially in space-squeezed urban gardens where a smaller custom pool or swim spa will be combined with outdoor structures, such as pergolas, gazebos and enclosed cabanas that provide shade and storage.
EASY MAINTENANCE | Smaller, self-directed "robotic" pool cleaning units that don't require human assistance are popular, as well as saltwater systems, which are kinder to eyes and the environment than chlorine.
"The word staycation may be overused, but our customers are truly looking to create their own personalized resort at home."
– JAY PRITCHARD, PIONEER FAMILY POOLS
Endless Pools' Fitness System E2000 SWIM SPA, Pioneer Family Pools.
COOKING
Timberline series GRILL, Traeger.
Smokefire Plus GRILL, Weber.
ELECTRIC GRILLS | Outdoor electric grills are a great solution for small spaces like urban backyards and balconies where charcoal or gas grills are not allowed. Some models can produce barbecue flavour that's close to authentic charcoal grilling.
WOOD-FIRED COOKING | Wood-fired and wood pellet grills impart a delicious traditional flavour and are popular in municipalities allowing wood fires.
OUTDOOR KITCHENS | As sophisticated in style and features as their indoor counterparts, these spaces have running water, electrical and gas services, high-quality built-in appliances, and full-size prep and storage areas.
"We know that many Canadians live in urban areas with smaller spaces where gas and charcoal grills aren't permitted. Electric grills provide the perfect solution."
– PATRICIA LAREZ, WEBER STEPHEN CANADA
DECKS & HARDSCAPING
Transcend Lineage DECKING in Biscayne, Trex.
HUE NEWS | Light neutral colours in decking are popular, reflecting indoor trends and creating a calm, serene look. In second place are deck hues inspired by nature: taupe, mocha, light coastal brown, mountain grey.
SUSTAINABLE MATERIALS | Products like recycled composites, which are low maintenance, last for years and help to reduce the homeowners' carbon footprint, are gaining space and favour in the marketplace.
GLASS MOSAICS | This stunning decorative material is on the rise, looking particularly effective in gorgeous green and blue hues on pool surrounds.
"Spending time with friends and family has never been more valued, and backyards have become the new epicentre for home entertaining."
– LESLIE ADKINS, TREX COMPANY
LIGHTING
LIGHTING, Outdoor Lighting Perspectives.
MOOD LIGHTING | Candles, tiki torches and string lights are always on trend, helping to create atmosphere without breaking the bank.
DIRECTIONAL LIGHTING | We're rejecting over-lighting our properties and homes in favour of subtle uplighting (trees and walkways) and downlighting (tucked into trees to invisibly illuminate pathways, focal points or the interior of the tree itself).
TECH ASSISTANCE | As with many other home systems, we're choosing remote-controlled lighting via a smartphone app.
SPECIAL EFFECTS | Switching white flood lamps with coloured bulbs lets us create different moods and effects.
"The most surprising effect of nicely designed outdoor lighting is that it effectively makes your home larger. Your outdoor spaces suddenly become your favourite rooms after dusk."
– PAMELA MOXON, OUTDOOR LIGHTING PERSPECTIVES
LIGHTING, Outdoor Lighting Perspectives.
ACCENTS & DECOR
COASTAL | We're hitting the beach, choosing natural materials that reflect the elements, and citrus colours and lively motifs that are vibrant and playful.
NATURAL | Natural materials like rattan, wood and terracotta in clean, simplified silhouettes are hot commodities.
PATTERN | Geometric patterns are the shape of things this summer.
SURFACES | Durable surfaces that mimic statement marbles, with its heavy veins and patterns, are chic in outdoor kitchens.
COLOURED GLASS | From decorative bowls to vases to serving pieces, coloured melamine or glass brings personality to the table.
GARDENING
CHAIR, Fritz Hansen Furniture.
BACKYARD GARDENING | This trend continues to grow (pun intended) and has exploded in popularity, in part due to the pandemic.
BOLD COLOUR | We're seeing the return of bright, bold blossoms on garden annuals and perennials, as well as flowering houseplants.
VEG POWER | Practicality is just as important as beauty: vegetables grown in containers or the sunnier areas of the garden can help lower food bills.
LOW-IMPACT GARDENING | Less is more in the great outdoors: using less water and fewer chemicals; designing our gardens for less work and more enjoyment; and spending less money by sharing cuttings with friends, growing from seed and buying smaller size plants.
CONTAINER GARDENING & HOUSEPLANTS | Lush, lovely containers and tropical plants are popular, most especially with Gen Zers, millennials and condo dwellers.
VERTICAL GARDENING | Plants that can be trained up a trellis, across a pergola or on strings are on the rise!
"With the price of produce these days, growing your own food has become a huge trend, and it will be bigger than ever this year – even in a condo balcony or city backyard."
– FRANKIE FLOWERS, TV HOST AND GARDENING EXPERT
GARDEN DESIGN, Frankie Flowers.
6 TIPS FOR A MORE SUSTAINABLE GARDEN
- FRANKIE FLOWERS, TV HOST AND GARDENING EXPERT
01 | Pair your garden's growing conditions (sun, rainfall, type of soil) with plant varieties that suit it. Not only will this reduce the need for additives and water, but you'll also save money, time and frustration.
02 | Convert your pool heater and backyard lighting to solar power.
03 | Compost – store-bought or homemade (it's easier than you think!) – is a garden's best friend. Unlike chemical fertilizers, you can't overfeed your garden with compost, and it improves virtually any soil.
04 | Choose plant species native to your region, rather than exotics.
05 | Switch out your lawn to a native ground cover; it's just as tidy and green, but much lower maintenance.
06 | Gardening expert Frankie Flowers notes that some Canadian municipalities offer incentives to replace hard surfaces on your property with gardens or green spaces that will absorb rainfall, helping to reduce local flooding. Check to see what's offered where you live.