Trends
Talking 2021 Trends
Photography: Portrait: Jeremy Kohm
Trends
Talking 2021 Trends
What design directions are influencing the influencers? Our Contributing Editor Karl Lohnes speaks to Canadian design phenom Sarah Richardson about 2021 trends.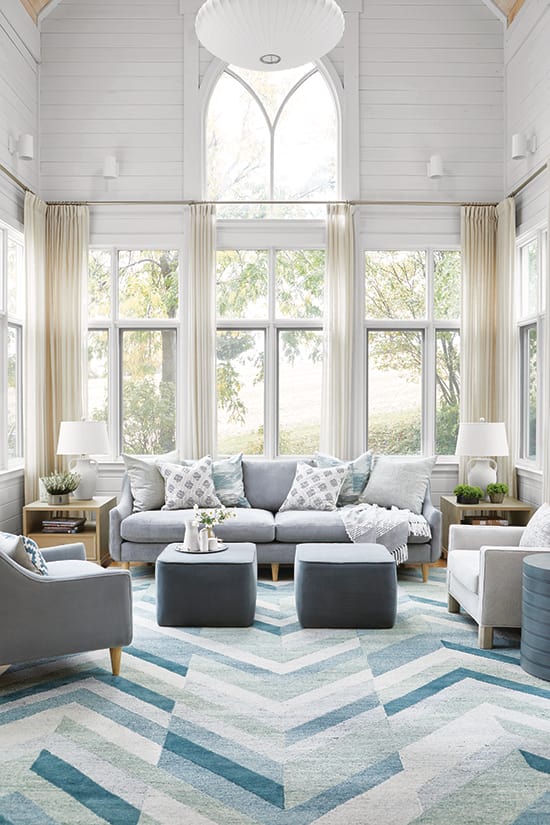 Zig Zag Teal RUG, starting at $1,500, Sarah Richardson for Palliser.
Karl Lohnes: Designers love to implement timeless elements in their decor schemes. What is your definition of a trend and do you follow them?
Sarah Richardson: To me, trends represent current fads and popular culture influences. I think trends get a bad reputation as fads due to their quick rise in popularity, and then suddenly they're everywhere. On the downside, trends end up becoming oversaturated ideas that inevitably feel time-stamped, which makes them seem dated when the next wave of trends rolls in. On the upside, I like to think of trends as an expression of the creative stream of consciousness that finds many creatives from various places dreaming about the same influences at the same moment. Can we talk about historic smoky teal hues for a minute? I am loving them and have been grooving on this colour for a while and hope it doesn't become "done" in a New York minute.
KL: What is one 2021 decor trend that you are glad to see?
SR: I don't want to call the design influences that I'm excited about "trends," as I worry it'll make them disappear too fast. I'm excited about consumers embracing vintage for the value of reusing and repurposing, and I'm always trying to champion the appreciation of artisanal and handmade elements for the soul and character they bring to every room.
Photography: Portrait: Jeremy Kohm | Interiors: Valerie Wilcox
KL: So many people say they like both modern and traditional style. What are ways to blend the two looks together?
SR: Carefully (lol)! The key to mastering the mix is not getting too eclectic, as you don't want your modern-trad mix to look like a yard sale. The easiest path to success is to select traditional items with simple, streamlined forms so you don't end up trying to mix pared-down modernism over top of trad!
KL: Can you share with us one new decor element that you will be implementing in your decor projects for 2021?
SR: I just read in a UK-based roundup that the "Arts & Crafts movement" is a trend for 2021. As someone who lives by the mantra of the wise William Morris – "Have nothing in your homes that you do not know to be useful or believe to be beautiful,"– I'd love to dive back into some of the Morris & Co. that I grew up with as a child, and think about how to make them feel new and now.
PAINT, Pacific Rim 678, Benjamin Moore. Zig Zag PILLOW COVER, $50,
Sarah Richardson for Palliser.
KL: How can someone incorporate a new trend into an existing decor scheme without changing everything in a room?
SR: That really depends on what backdrop you are starting with. I've forever been a pro- ponent for making all the big choices in your home neutral, timeless and classic. Sure, I love colour and pattern and wow-factor design, but for the most part, you'll find me making all the investment purchases in solid neutral choices so it's easy to layer in fun accents – a zingy printed pillow, a statement table lamp, or a scene-setting patterned rug. Add colourful throw and accent pillows, or a new piece of art to any neutral space, and presto...you've got a whole new vibe!
Oh, Canada!
Photography: Portrait: Jeremy Kohm | Interiors: Valerie Wilcox | SARAH RICHARDSON for Palliser, palliser.com.
Always on the go with a new project, Sarah recently teamed up with Winnipeg-based furniture manufacturer Palliser to create four new whole-home collections – Annex, Vista, Boulevard and Shore. Each themed collection features furnishings for the bedroom, living and dining rooms, and includes a range of decorative rugs, throws and accent pillows, all in Sarah's signature elegant yet welcoming style. "My goal was to create a collection that offers something for every taste and style," says Sarah. "I worked hand-in-hand with each of the manufacturing teams on everything in the collection, all of which is made in Winnipeg." We're feeling the true patriot love for this all-Canadian design dream team.