High or Low
High/low: Botanically inspired sunroom
Image: Michael Nangreaves
High or Low
High/low: Botanically inspired sunroom
We designed a botanically inspired sunroom on budgets befitting a seedling and a mature plant. Can you tell the difference?
Enjoy the outdoors through every season and storm. Can you tell which botanical sunroom is the high and which is the low?


High: $14,982
1 Botanical linen canvas Cherry and Sunflower prints (mounted on wooden dowels), The Evolution Store, $219 US each.
2 Handmade faceted soldered glass terrarium, Crown Flora Studio, $165.
3 Custom handmade polished steel console with reclaimed wood top, Junction Wood + Metal Co., $1,200.
4 Turner bar-height black-finished metal stools with adjustable swivel seats, Crate and Barrel, $299.
5 Beachcomber extra-large round hand-woven seagrass baskets, Pottery Barn, $129 US each.
6 Artisan Elite maple engineered hardwood flooring in Bracken Hill, Torlys, $7.90 per sq. ft.
7 Hand-knotted wool and bamboo silk Bal Harbour rug in Antique White & Ocean, 6' x 8', Weavers Art, $3,950.
8 Huppe beech Citta armchair with leather cushions in Boston White, Shelter, $1,999.
9 Polyester Swaying Palms toss cushion with down alternative insert, 20" x 20", Tonic Living, $54.

Low: $5,577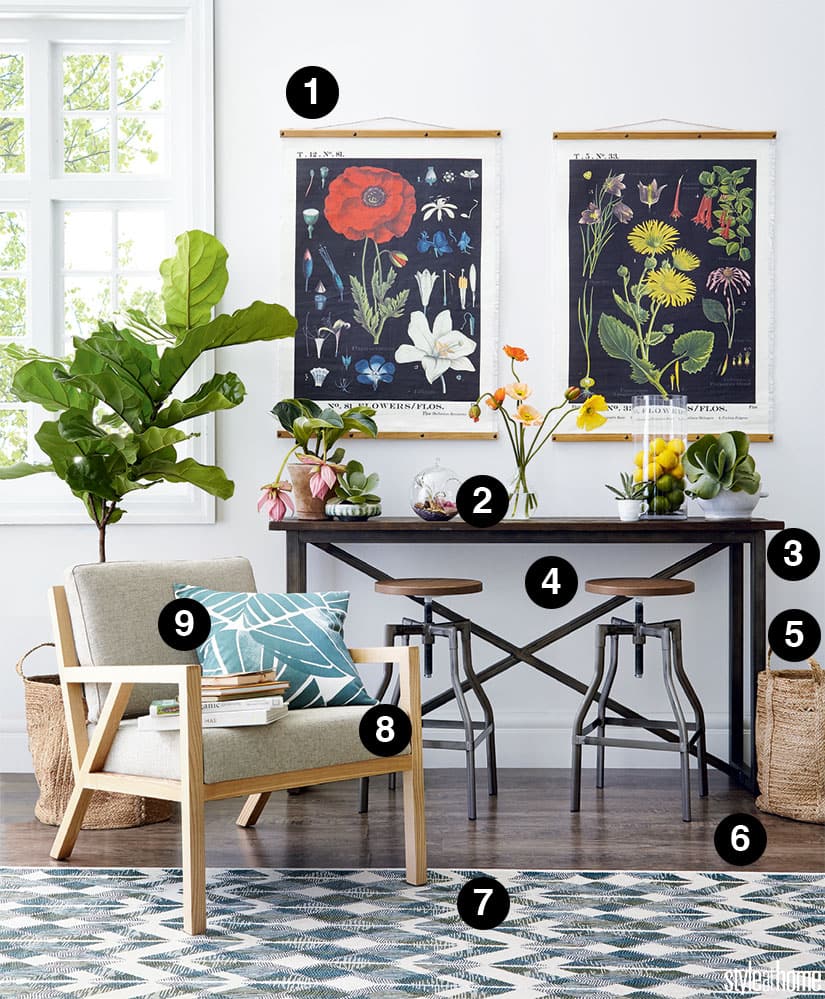 1 Frayed cotton canvas botanical No.81 and No.33 prints (mounted on wooden dowels), Pottery Barn, $119 US each.
2 Hand-blown glass terrarium, Crown Flora Studio, $55.
3 Steel Dark Leaf console with reclaimed barnwood top, Urban Barn, $649.
4 Bar-height powder-coated iron Burke stools with adjustable swivel elm seats in Grey, Structube, $159 each.
5 Woven baskets, HomeSense, $25 each.
6 Sugar Hill laminate flooring in Smoke Plank, Torlys, $3.70 per sq. ft.
7 Viscose blend Bohemian rug 5' x 8', Urban Barn, $329.
8 Gus Modern ash Truss armchair with polyester Leaside cushions in Driftwood, Style-garage, $950.
9 Cotton toss cushion cover, 20" x 20", H&M Home, $15; duck feather insert, H&M Home, $13.

Be inspired by spring in the sunroom. With the perfect chair the room will be nothing short of the ideal spot to grab a book, make a lemonade and check out your budding love for nature.

Some like to decorate with piles of books, others with an array of candles. But if you ask us, nothing beats the impact of plants, and this less-is-more tableau is a case in point. The key to this look is the negative space, created by loosely arranged unobtrusive glass vessels. The plantings are few but carefully chosen, varying in height, colour and texture. And don't forget an element of surprise – did you notice the animal figurines in the terrariums?

A long day doesn't seem so daunting when you come home to stylish decor. That's why we love these slender minimalistic consoles. Whether your place is ultra-modern or a bit rustic (and whatever your budget), there's a choice for you.

Introduced in the early 19th century, oversized botanical charts were a staple in classrooms throughout Europe, used to educate youth about the anatomy of various flora (such as the sunflower) and fauna. As close to the real deal as you can get, our High prints are exact copies of German charts from the 1950s and '60s. In fact, they're produced by the original internationally recognized manufacturer using the same film and methods.

Host a "welcome spring" party with a new smoothie recipe or take a seat while you care for your plants. Whatever the occasion, keep around some stylish seating to blend into the natural ambience of the space.

Greenery has a way of livening up any room, and when that verdant touch doesn't require any maintenance and remains bright year-round, it's a clear winner. From banana to palm leaves, the motifs of these printed toss cushions have a moving quality that calls to mind a tropical beach – a sunny ambience every Canadian household can use.

In a room like this the only burst of colour should be coming from the plants. Keep your flooring and rugs low-key with a simple pattern that blends the flooring together to create a faux grass or dirt area.

Nothing makes a space like this just a bit more unique like putting your own taste into the planters. Decorate your own pots or go for something more special, like these teacups for smaller plants. It doesn't really matter what you plant them in, just make sure it reflects you and the room you want to create.