Food & Drink
Christmas cupcake decorating at Le Dolci
Food & Drink
Christmas cupcake decorating at Le Dolci
We've been in a holiday mood for several weeks at the Style at Home office! From decorating, to cooking, and entertaining, our website has been filled with fabulous ideas to make the holidays fun and stress-free. But the sweetest Christmas treat so far has been the cupcake decorating class I attended last week! Lisa Sanguedolce, owner of food studio Le Dolci and baker extraordinaire, shows amateur bakers how to make bakery-worthy creations at home.
Lisa's gorgeous cupcake creations After getting inspired by some of the gorgeous cupcakes Lisa had displayed, we were given 12 baked cupcakes each to decorate. We learned a few fun tricks to make decorations using different dyes, edible glitter and a myriad of cookie cutters. The class was wonderfully hands-on! We really got to try out different techniques and let our creativity run wild. I can't think of a better way to spend a relaxing afternoon!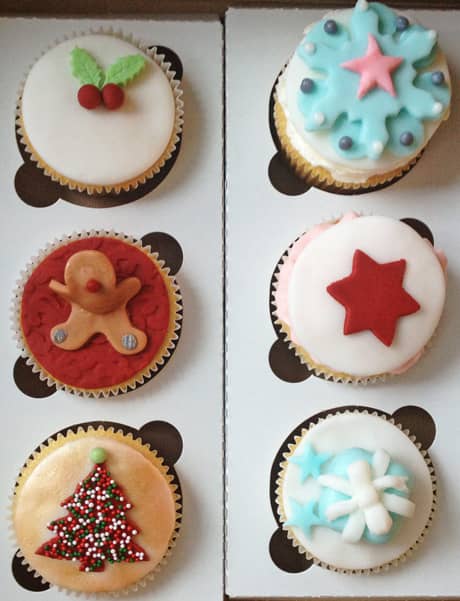 A few of my cupcakes
The cupcake decorating session couldn't have been more fitting for this time of year. Wouldn't these make a great addition to a holiday dessert platter or the perfect
hostess gift
? If cupcakes aren't your thing,
Le Dolci
also offers different types of classes - from learning how to decorate wedding cakes, to making French macarons. Some of the classes offered are also a great place for kids to have fun in the kitchen - Isabelle was an attentive student in our class and had a lot of fun working with the fondant (it's really not that different from play dough!).
What baked goods do you enjoy making during the holidays?