Food Tips
How to: Make the perfect cup of tea
How to: Make the perfect cup of tea
Food Tips
How to: Make the perfect cup of tea
Fine bone china and pinky fingers poised daintily in the air may not be everyone's cup of tea. So why not put a modern twist on this beloved tradition and create a new and stylish way to serve a perfectly steeped cup of
afternoon tea
?
Even though accessories may change over the years, the founding principle of a pot of tea remains the same. It's an opportunity to get together with loved ones and enjoy a peppy pick-me-up, a chance for riveting conversation and a way to soothe otherwise chaotic days. While some believe that making tea is as simple as throwing a bag into some hot water, the truth is that achieving the perfect
brew
requires a bit more precision.
How to: Make the perfect cup of tea
Directions
1
Boil water.
2
Once water is boiled, pour a ¼ cup into the empty teapot and swirl around until the entire surface has been coated. This warms the teapot, which will help enhance the tea's flavour and entire tea-tasting experience.
3
Place tea bag in teapot.
4
Add remaining hot water until the teapot is filled and leave to brew. After three to five minutes, stir gently with a spoon and remove teabag to avoid over steeping.
5
If you take your tea with milk, pour milk into teacup before anything else. Bone china cups are preferable, as they help keep the beverage warmer for longer.
6
Pour brewed tea into cup and stir so milk and tea combine. Then add additional sweeteners, such as sugar or honey, if desired.
7
Sit, sip and enjoy.
As with any kind of food or drink, preparation pays off. The perfect cup of tea takes a bit of patience! Offering health benefits, relaxation and a delicious taste, it's no wonder that tea has been one of the most popular drinks in the world for centuries.
10 stylish tea accessories
Here are
10 stylish tea accessories
that will help you enjoy the perfect cup of tea.
Emma monogrammed teapot
Make sure everyone knows that you are the host of the tea party with a vintage-inspired monogrammed teapot. Available in black or red typography, this pretty piece of earthenware will dress up any cup tea and make a lovely addition to your
kitchen design
.
Pottery Barn
,
$61.52
.
Tea Forte café cup in wooden box
There is nothing worse than a cold cup of tea, so keep yours piping hot with a custom leaf-topped lid, designed to perfectly cap the matching porcelain cup. Present your tea selection with the accompanying wooden box for even greater impact!
Indigo
,
$22.50
.
Lemon double wall tea infuser cup
As much as we might like to, it isn't always possible to sit down and savour a hot drink, so instead, take the tea party with you in a fashion-forward travel mug. Equipped with a nesting infuser basket for loose-leaf teas, this stoneware mug makes a bright and cheery caffeine companion, and a
great gift idea
.
Crate and Barrel
,
$18.62
.
Raffia trays
Say goodbye to frumpy antique trays and instead say hello to a delightful hand woven replacement. Durable and easy to clean, these trays (available in three different sizes) are ideal for indoor and
outdoor entertaining
.
West Elm
,
$30.09 - $61.22
.
Le Creuset teakettle
What is tea without a kettle? Introduce a classic kettle with stunning good looks and a colourful personality into your
chic kitchen
and never be without tea again. Known for its high-quality porcelain enamel and efficient conduction, a Le Creuset kettle will satisfy all of your boiling needs.
Williams-Sonoma
,
$80
.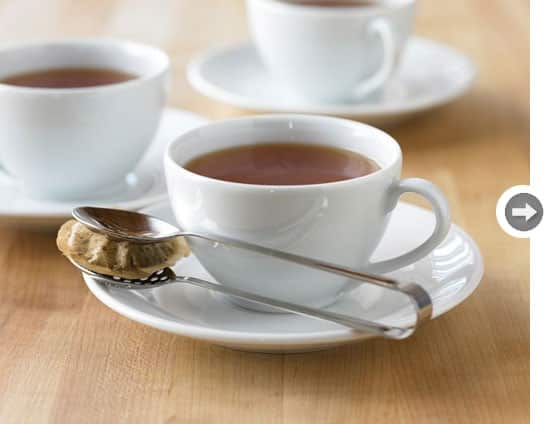 Tea straining spoon
This tea straining spoon opens up a whole new world for tea lovers by allowing you to stir and squeeze out excess water for optimal brewing. Plus, it can be used to add sugar or honey for an extra sweet treat. What a fancy piece of
flatware
.
Williams-Sonoma
,
$11.00
.
Sugar and creamer set on bamboo tray
This adorable duo will become a darling feature in your kitchen and it's so useful as well. Set in a little bamboo tray, this pair can go anywhere together, from kitchen counter to
dining room
table, to an outdoor
patio party
and back again.
West Elm
,
$14.53
.
Tea towel
There's no need to cry over spilled tea if this sassy
towel
is nearby. The bold graphics and playful illustration make it a fun addition to any tea occasion.
Mjolk, $24.00
.
Tall butler tray stand
A butler might be out of the question, but a handy butler tray can help tremendously for serving tea to guests. Polished nickel legs and a sturdy wooden top make it an elegant
kitchen gadget
that can be whipped out at a moment's notice thanks to its ingenious folding design.
West Elm
,
$154.61
.
Tea infuser stick
Soggy tea bags can be most unappetizing, making a sleek tea wand a must-have item for the serious tea connoisseur. Featuring a modern
industrial
style, this infuser pulls apart in two to be filled with tealeaves. Just stir to create the perfect cup of tea without the mess.
Crate and Barrel
,
$12.41
.