Food Tips
Joe Beef: An interview with David McMillan and Frederic Morin
Joe Beef: An interview with David McMillan and Frederic Morin
Food Tips
Joe Beef: An interview with David McMillan and Frederic Morin
David McMillan and Frederic Morin are the charismatic owners of
Joe Beef
, a gem of a restaurant in Montreal. A little tucked away from the downtown core, the quaint restaurant serves up classic comfort food to feed a crowd. Luckily for all of us who can't make it there regularly, the Joe Beef boys now have a cookbook filled with some of their staple recipes. We caught up with the owners to ask them more about the cookbook, their love of food and their choice of
decor
for their restaurant.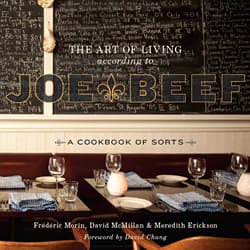 Style at Home:
Tell us a little bit about the ambiance of your Montreal restaurant, Joe Beef.
David McMillan:
Joe Beef is a very cottagey, homey restaurant. We see the restaurant as an extension of our houses – we don't see it as a public space. It's our restaurant and we welcome visitors as we would guests in our home.
S@H: How would you describe the choice of decor in your restaurant?
DM:
We built the restaurant with very little money – we put Joe Beef together for about $60,000. We emptied out part of my art collection, my
dining room chairs
, my mother's Creuset pots and borrowed things from friends to make it aesthetically pleasing. We see it as a simple touch of cottage. There's a giant chalkboard with handwritten items from the menu, red banquettes with brass nails, a Peter Hoffer painting in the dining room and brass candelabras. If I had a million dollars, I'd like to believe that the restaurant would look exactly the way it does ... with better plumbing! It looks to me like that little French restaurant in Paris that I've always wanted to go to.
S@H: For anyone who has just purchased your cookbook, which recipes would you suggest they make first to get the real Joe Beef experience at home?
Frederic Morin
: It would have to be the
lobster spaghetti
! It's surprisingly simple if you follow the steps and it turns out exactly like it does in the restaurant.
DM:
The best part about it is that it's a dish that really makes everybody happy. You can share it as an appetizer, you can adapt it by adding fresh green peas, you can throw in some wild mushrooms and it also makes a wonderful
side dish
if you're having something like a steak. We find it more fun to eat than boiled lobster – boiled lobster is nice if you're on vacation by the coast but a spaghetti lobster really is something different. The spaghetti acts like a sponge for the creamy sauce and it's delicious.
FM:
Another recipe we love is the
aioli sauce
– the concept is to gather seasonal produce on the table and to eat it with this flavourful garlic mayonnaise. You can use some cooked vegetables, some raw and dip them in the sauce.
S@H: What are some of your favourite restaurants in Montreal?
DM: I like Nora Gray – it's a new restaurant opened by two people who used to work for us– it's very, very good. I like L'Express and Le Mas des Oliviers. Le Bonaparte in Old Montreal is also a great, romantic dinner place. Our view is a little skewed though and it never seems that we're choosing restaurants out of the top ten list. We tend to choose restaurants based on fantasy and nostalgia – I'll go eat at Le Mas des Oliviers, for example, because I want to sit at the table where Mordecai Richler used to sit and enjoy my meal while thinking about what it would have been like to be him, sitting in this very seat ...

S@H: Are there any restaurants in Toronto that you particularly like?
FM: I like the food at the Drake Hotel and Jamie Kennedy's restaurants.
DM: We always go to Rodneys and Oyster Boy when we're visiting Toronto. I've also heard a lot about two restaurants, Arcadia and Woodlot – so I'm sure I'll be trying those soon!

S@H: Last, but certainly not least, the Joe Beef cookbook has a mouth-watering dessert section filled with sweet indulgences. What are some of your favourite desserts?
DM: I'd have to go with our soft serve ice cream since we have a machine in the restaurant and use it all the time. It's amazing.
FM: Paris brest choux with almonds and syrup with a praline ice cream – that's what I'm craving right now!

If you'd like to give the Joe Beef recipes a try, here are a few delicious options to choose from:

Bagna cauda and aioli sauce




Lobster spaghetti




Foie gras breakfast sandwich




Smoked cheddar with doughnuts


---
BUY THIS BOOK
Excerpted from The Art of Living According to Joe Beef by David McMillan, Frédéric Morin, and Meredith Erickson; Foreword by David Chang Copyright © 2011 by David McMillan, Frédéric Morin, and Meredith Erickson; Foreword by David Chang. Excerpted by permission of Ten Speed Press, a division of Random House of Canada Limited. All rights reserved. No part of this excerpt may be reproduced or reprinted without permission in writing from the publisher.