Recipes
Recipe: Aromatic olive oil mash
Photography: Jonathan Lovekin
Recipes
Recipe: Aromatic olive oil mash
Your festive feast deserves this rich and creamy side dish that boasts a flavourful topping featuring thyme, mint and lemon.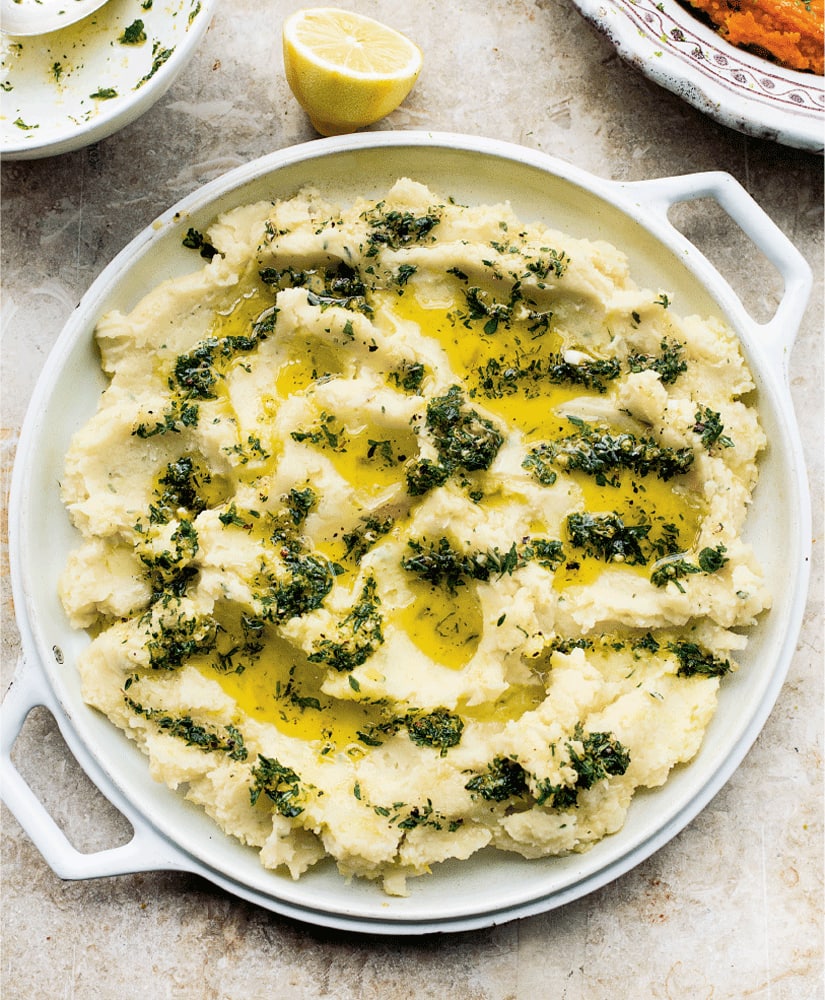 Ingredients
2 lbs red-skinned potatoes, peeled, cut into 11⁄4-inch pieces
6 sprigs thyme
3 sprigs mint
4 cloves garlic, peeled
5 strips fresh lemon peel
2 tsp salt
7 tbsp extra-virgin olive oil
Freshly ground black pepper
Topping
1⁄4 cup extra-virgin olive oil
1 clove garlic, minced
2 tsp finely chopped fresh thyme
8 mint leaves, finely chopped
1 tsp freshly grated lemon zest
1 tbsp freshly squeezed lemon juice
Salt and freshly ground black pepper to taste
Directions
1 Place the potatoes, thyme, mint, garlic, lemon peel and salt in a large pot. Cover with enough boiling water to rise 3⁄4 inch over the potatoes. Set the pot over a low heat and allow the potatoes to simmer gently for about 25 minutes, or until soft enough to mash.
2 Meanwhile, make the topping: Stir together all the ingredients in a small bowl; set aside.
3 Drain the potatoes, reserving 2/3 cup of the cooking water; discard the thyme and mint sprigs. Return the potatoes, garlic and lemon peel to the pot and mash, adding the oil and the cooking water slowly as you go, until the potatoes are smooth. Transfer the mash to a serving bowl and use the back of a spoon to create divots in the surface. Drizzle the topping evenly over the potatoes, finish with a good grind of black pepper and serve.
Get ahead: By peeling and cutting the potatoes up to 6 hours in advance. Just keep them in a pot of cold water and drain before starting the recipe.
Serves 4
---
Excerpted from Ottolenghi Simple: A Cookbook by Yotam Ottolenghi. Recipes Copyright © 2018. Excerpted by permission of Appetite by Random House, a division of Penguin Random House Canada Limited. All rights reserved.
"Ottolenghi Simple" by Yotam Ottolenghi, $42, amazon.ca.