Recipes
Recipe: Basil-lime shrimp kebabs with creamy herb dip
Recipes
Recipe: Basil-lime shrimp kebabs with creamy herb dip
Add some savoury goodness to your grill this summer with these easy and delicious shrimp kebabs.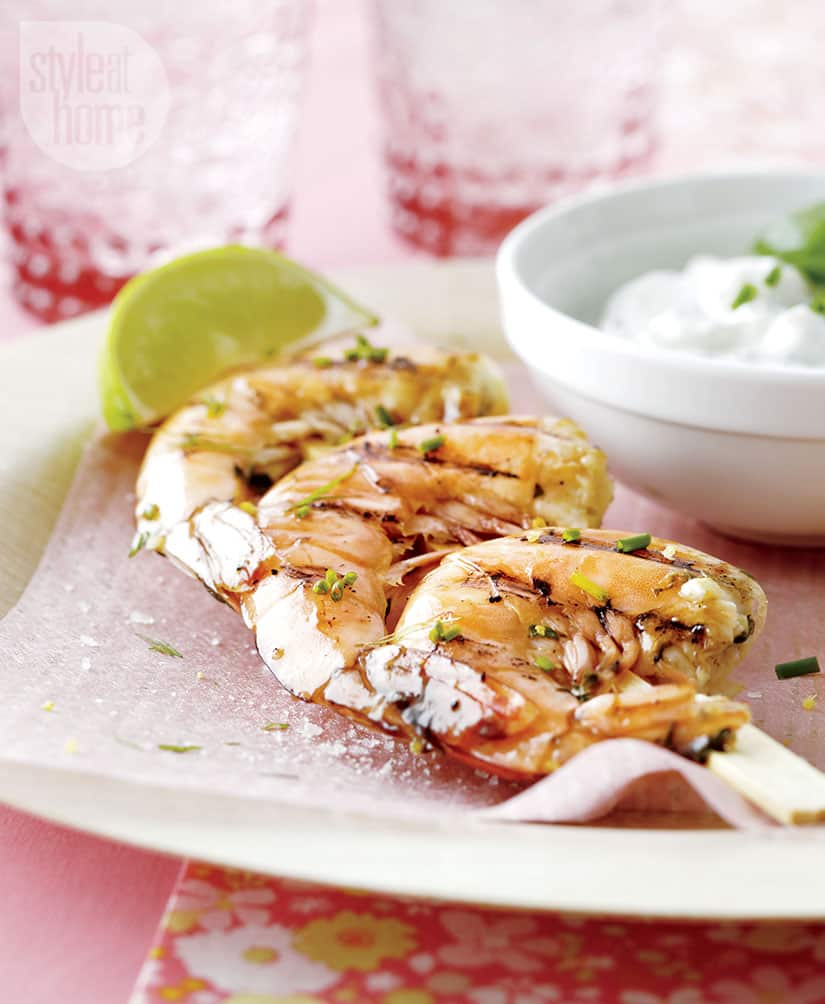 Ingredients

Kebabs
1 lb jumbo shrimp
3 cloves garlic, minced
2 small green onions, chopped
Juice of 2 limes
1/4 cup chopped fresh basil
3 tbsp extra-virgin olive oil
1 tbsp grated or finely chopped fresh ginger
1 tbsp Dijon mustard
1/2 tsp lime zest
1/2 tsp freshly ground black pepper
1/4 tsp sea salt

Creamy herb dip
1 cup Greek yogurt
1/4 cup mayonnaise
1/4 cup chopped fresh chives
1/4 cup chopped fresh parsley
2 tbsp chopped fresh dill
1 clove garlic, minced
2 tbsp freshly squeezed lemon juice
1/4 tsp lemon zest
1/4 tsp sea salt

Directions
1 Add all the kebab ingredients to a large resealable plastic bag and shake gently to combine. Place the bag in the refrigerator and let the ingredients chill for 2 hours, turning occasionally.
2 Meanwhile, prepare the dip. In a medium bowl, stir together the Greek yogurt and mayonnaise until fully combined. Add the chives, parsley, dill, garlic, lemon juice and zest and sea salt, stirring to combine. Cover and refrigerate until ready to serve.
3 Preheat the grill to high. Thread the shrimp onto metal or pre-soaked wooden skewers; discard the leftover marinade.
4 Lightly oil the grill and cook the kebabs on medium-high heat for 5 minutes per side, or until the shrimp is pink and opaque.
5 Serve the shrimp kebabs and creamy herb dip with jasmine rice, garnishing with fresh lime wedges, chopped mint or cilantro leaves and extra sea salt.
Prep and cook time: 3 hours.
Makes 8 kebabs.