Recipes
Recipe: Beer-braised pulled chicken
Recipes
Recipe: Beer-braised pulled chicken
Serve Elana Karp and Suzanne Dumaine mouth-watering recipe for beer-braised pulled chicken from their new cookbook Plated.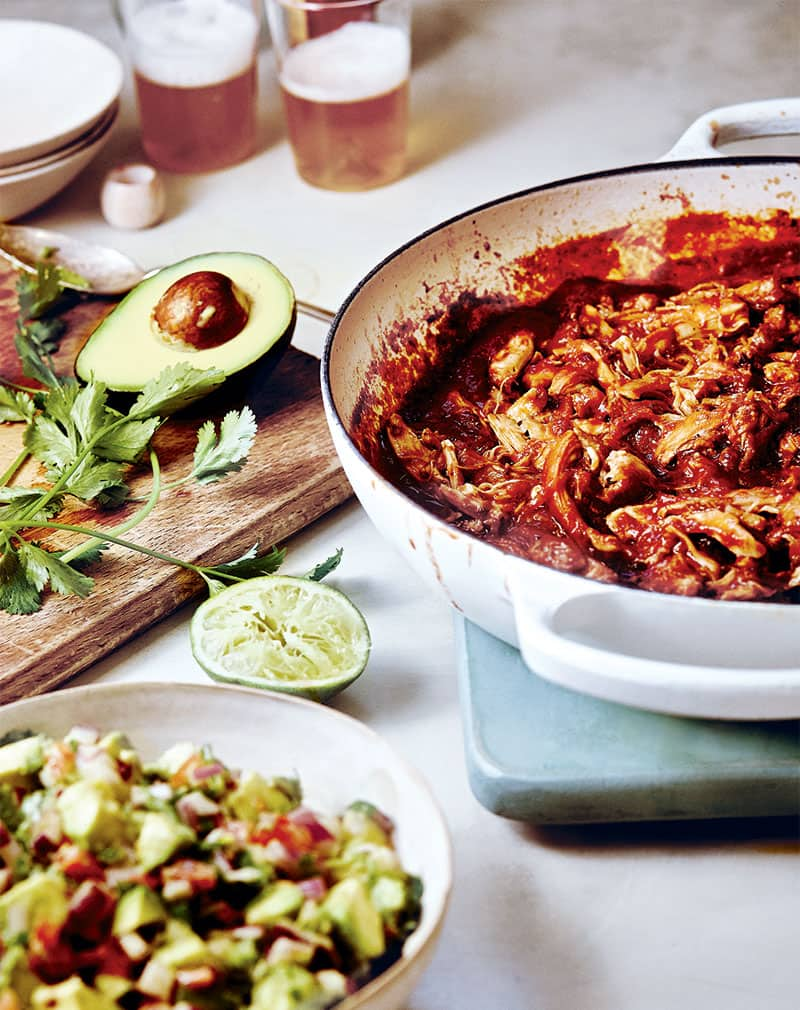 Ingredients
1 canned chipotle pepper in adobo sauce
1 1/2 tsp paprika
1/4 tsp cayenne pepper
2 tbsp canola oil
8 bone-in skinless chicken thighs
Kosher salt and freshly ground black pepper to taste
1 yellow onion, thinly sliced
3 sprigs fresh oregano
3 tbsp apple cider vinegar
1 1/2 tbsp Worcestershire sauce
1 tbsp dark brown sugar
1 15-oz can crushed tomatoes
1 12-oz bottle lager-style beer
Guacamole, for serving
Directions
1 Chop the chipotle pepper and set aside along with 1 tablespoon of the adobo sauce (reserve the rest of the can for another use).
2 In a small bowl, stir together the paprika and cayenne; set aside.
3 In a large high-sided pan, set the canola oil over medium-high heat. Rub the chicken with the paprika mixture and season both sides with salt and pepper.
4 When the oil is shimmering, add the chicken, flesh side down, in a single layer. Sear until the chicken is golden on the outside, 4 to 5 minutes per side. Transfer to a plate and set aside.
5 Add the onion and oregano leaves to the pan over medium heat and cook until the onion is soft and translucent, about 5 minutes. Add the vinegar and Worcestershire sauce and cook until reduced by half, 1 to 2 minutes. Add the brown sugar, tomatoes, beer, chopped chipotle and adobo sauce and stir to combine.
6 Increase the heat to high and bring the mixture to a boil, then return the chicken to the pan. Cover, reduce the heat to medium-low and braise until the chicken is pulling away from the bone, about 1 hour. Remove the chicken from the pan and set aside.
7 Simmer the braising liquid, uncovered, over medium-high heat until reduced by half, about 10 minutes.
8 Meanwhile, using two forks or tongs, shred the chicken meat into bite-sized pieces, discarding the bones.
9 Return the chicken to the reduced braising liquid and stir to combine. Allow the chicken to cool completely and store in the fridge for up to four days. Alternatively, transfer portions of the chicken to airtight containers and freeze for up to a month. To reheat, place the desired amount with sauce in a medium pot and warm, covered, over medium heat.
10 Serve the guacamole alongside the chicken.
Serves 4
---
Excerpted from Plated by Elana Karp & Suzanne Dumaine. Recipes Copyright © 2016 Elana Karp & Suzanne Dumaine, Photography copyright © 2016 Robert Bredvad. Excerpted by permission of Clarkson Potter/Publishers. All rights reserved.