Recipes
Recipe: Blueberry cream puffs
Use fresh blueberries for these delicious cream puffs.
Recipes
Recipe: Blueberry cream puffs
Topped with a light whip and a handful of fruit, these blueberry cream puffs will have you singing for warmer weather.
As winter finally begins to loosen its frosty grip, we're graced with the first subtle signs of spring – the cheerful chirp of a robin or a single garden bloom. It's a time of new beginnings, so why not pay tribute in your own kitchen with a dessert that celebrates the fruits of seasons to come? This stacked treat features freshly baked puffs and vanilla whipped cream as a vessel for the star of the show: plump blueberries. One bite and you'll swear you can feel the sun's warm rays.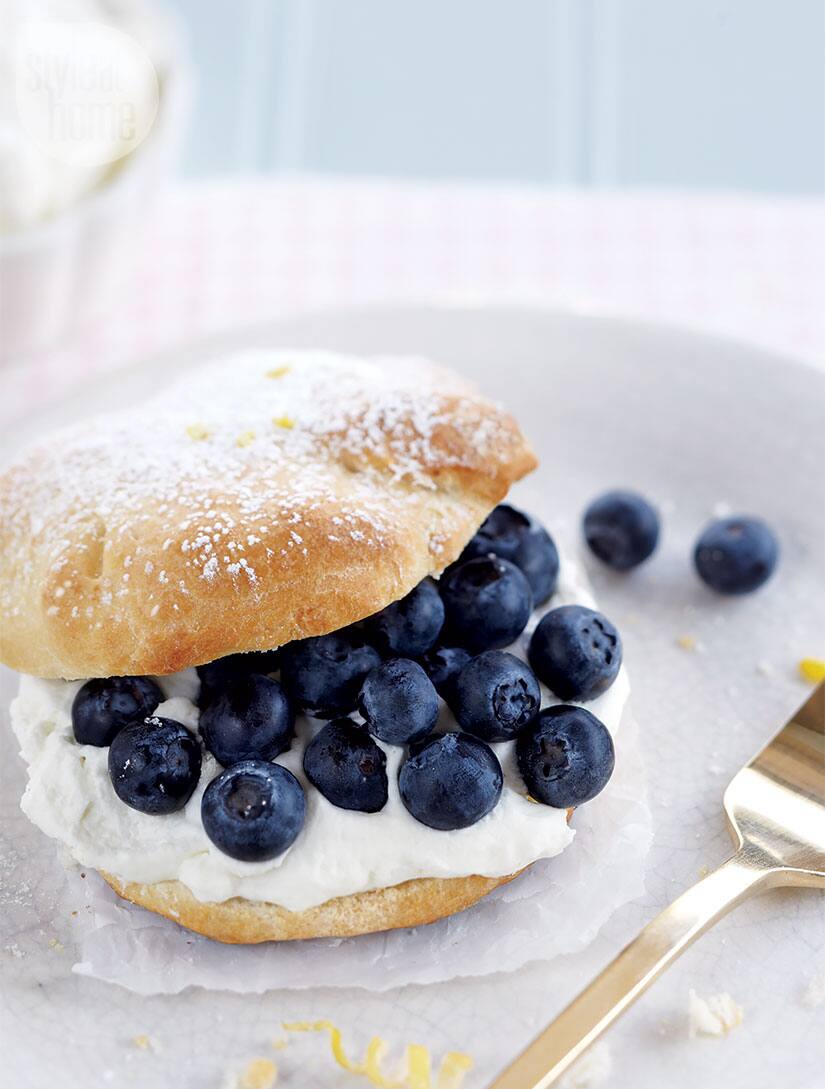 Ingredients
For pastry
2 cups all-purpose flour
1 tbsp baking powder
1/2 tsp salt
1/2 cup butter, chilled and cut into cubes
3/4 cup 18% cream or 2% milk
Granulated sugar for dusting

For filling
4 cups fresh blueberries
1/3 cup granulated sugar
3 tbsp Cointreau or orange juice
2 tbsp lemon juice
2 tsp lemon zest
1 1/2 cups whipping cream
1/4 cup icing sugar
1 vanilla bean, seeds scraped out
Icing sugar for dusting

TIP: Substitute strawberries or blackberries for a different spin on this delightful dish.
Directions
1 For the pastry, preheat the oven to 425°F. In a food processor, blend the flour, baking powder and salt until combined. Add the butter cubes and process until the mixture is crumbly.

2 Place the flour mixture in a large bowl and make a well in the centre. Add the cream to the well and, using a fork, slowly stir outward, working the mixture into a dough. Be careful not to overprocess; the mixture should be lumpy.

3 Turn out the dough onto a lightly floured surface and knead four times. The mixture will now hold together, but there will still be lumps.

4 Gently pat or roll out the dough into a 1-inch-thick circle. Cut out eight rounds with a cookie cutter or a large juice glass dipped in flour. Place the rounds on an ungreased baking sheet and brush the tops with a small amount of milk or cream, then sprinkle with the sugar. Bake for 12 to 15 minutes.

5 To make the filling, rinse the berries in cold water and place them in a large bowl, removing any damaged fruit. Sprinkle the berries with the sugar. In a separate bowl, combine the Cointreau, lemon juice and lemon zest. Pour the liquid over the berries and toss gently to coat. Cover with plastic wrap and refrigerate.
6 Whip the whipping cream until soft peaks form. Add the icing sugar, 1 tablespoon at a time, until the desired sweetness is reached, then fold in the vanilla seeds; cover and refrigerate until ready to assemble.

7 To assemble, split the warm puffs in half horizontally and brush the insides with a little butter. Pile the bottom halves evenly with the whipped cream. Top each with ¹/³ cup of the blueberry mixture and replace the tops. Sprinkle with the icing sugar and serve.

Bake time: 15 minutes
Makes: 8 cream puffs