Recipes
Recipe: Cheesy nachos with salsa cups
Serve this mini salsa cups at your next party!
Recipes
Recipe: Cheesy nachos with salsa cups
Skip the potato chips and serve guests these tasty nachos and salsa cups at your next gathering.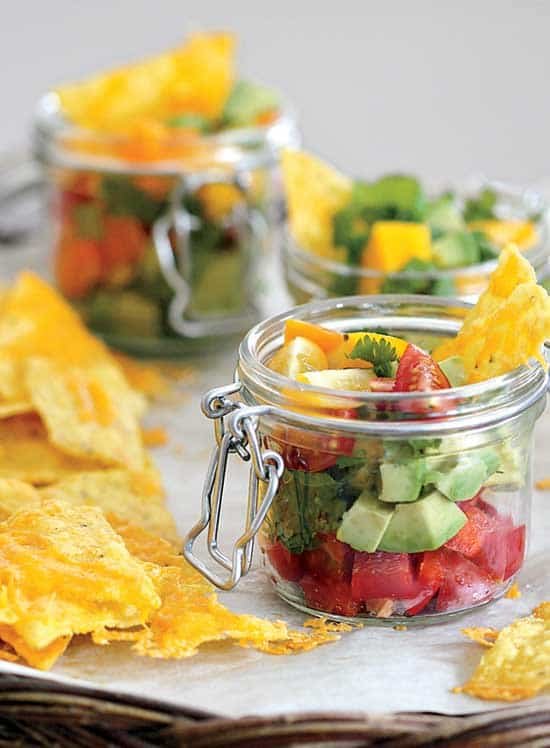 Ingredients
1 large bag tortilla chips
1 to 2 cups grated cheddar cheese
1 avocado, peeled, stoned and diced
1 mango, peeled, stoned and diced
1 red and yellow pepper, cored and diced
Handful fresh cilantro or basil, chopped
8 cherry tomatoes, quartered

Directions
1 Preheat the oven to 325°F.

2 Place the tortilla chips on a baking sheet and sprinkle with the cheese.

3 Bake for about 6 to 7 minutes, or until the cheese has melted and is beginning to bubble.

4 Mix all of the remaining ingredients together in a large bowl, or mix together in individual salsa cups for everyone; serve with the cheesy chips.

Serves 3 to 4.
---

BUY THIS BOOK
Excerpted from Farm Fresh Recipes: From the Missing Goat Farm by Heather Cameron. Copyright © 2013 by Heather Cameron. Photography Copyright © 2013 by Heather Cameron. Excerpted by permission of CICO Books, a division of Ryland Peters & Small ltd. All rights reserved. No part of this excerpt may be reproduced or reprinted without permission in writing from the publisher.