Recipes
Recipe: Cherry Cheesecake Squares
Image: Maya Visnyei | Prop Styling: Ann Marie Favot
Recipes
Recipe: Cherry Cheesecake Squares
A crumbly cookie crust and swirls of sweet-tart cherry sauce take ordinary cheesecake to a whole new level of deliciousness – in the form of a square.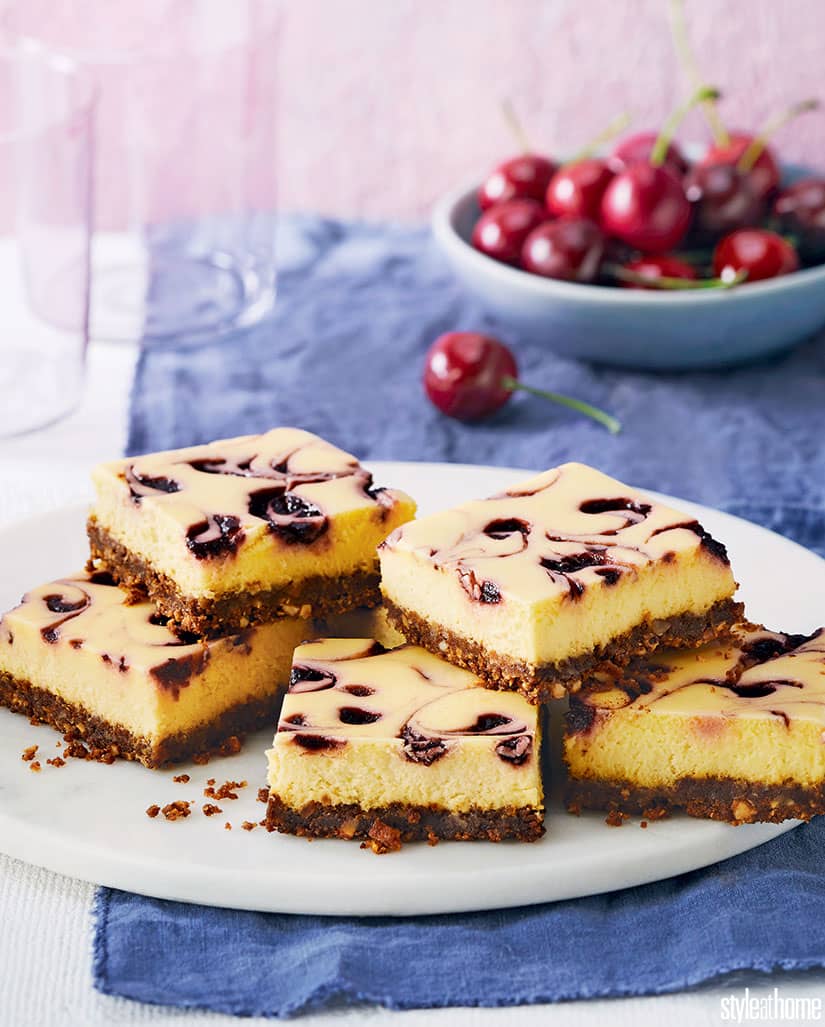 Ingredients
Cherry Sauce
12 oz pitted sweet cherries
½ cup granulated sugar
2 tbsp amaretto (or water)
1 tbsp cornstarch
1 vanilla pod, split, seeds scraped
Crust
5 oz gingersnap cookies
½ cup roasted unsalted almonds
¼ cup dark brown sugar
1/3 cup melted butter
Filling
16 oz cream cheese, at room temperature
½ cup granulated sugar
½ cup sour cream
2 large eggs
2 tsp pure vanilla extract
Directions
1 Preheat the oven to 350°F. Line a 9" square baking pan with two sheets of parchment paper, crossing them so they run along the bottom and neatly up and over the sides of the pan.
2 To make the cherry sauce, place the cherries, sugar, amaretto and cornstarch in a blender and purée until smooth. In a medium saucepan, cook the fruit mixture with the vanilla pod and seeds over medium heat, stirring constantly with a rubber spatula until thickened, about 4 minutes. Discard the pod and allow the mixture to cool.
3 To make the crust, place the cookies, almonds and brown sugar in a food processor and pulse until the almonds are finely ground. Add the butter and pulse to combine. Remove from the food processor and press into the bottom of the prepared pan. Bake for 10 to 12 minutes.
4 To make the filling, beat the cream cheese in a large bowl until light and fluffy. Add the sugar, sour cream, eggs and vanilla and continue beating until smooth.
5 Pour the filling over the crust. Drop ½ cup of the cherry sauce by the teaspoonful over the filling. (Reserve the remaining sauce in the fridge for serving.) Using a knife, gently swirl the sauce into the filling in a decorative pattern. Bake for 25 to 30 minutes or until the filling is just set (it should be slightly jiggly in the centre).
6 Allow to cool at room temperature and then refrigerate for at least 4 hours or up to overnight before using the parchment paper flaps to lift the cheesecake out of the pan; slice into 2" squares and serve with the reserved cherry sauce.