Recipes
Recipe: Chili-roasted delicata squash with queso fresco
Roasted squash makes a delicious side dish for any meal.
Recipes
Recipe: Chili-roasted delicata squash with queso fresco
With its slight kick, this chili-roasted squash might become your new favourite side dish.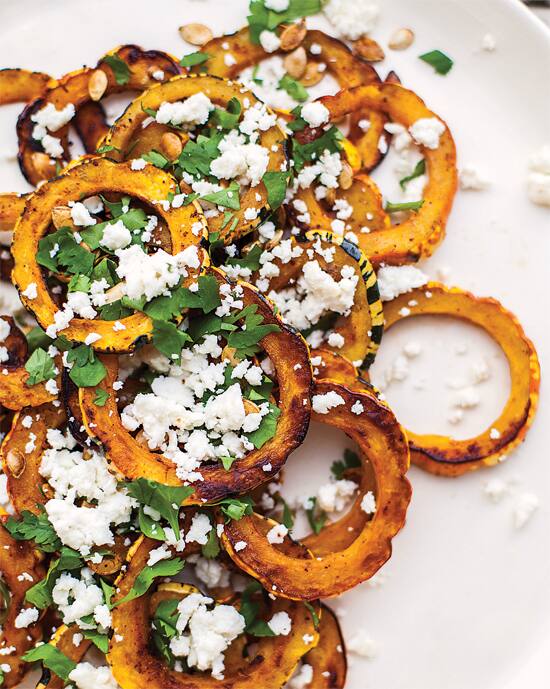 Ingredients
2 delicata squash (about 1 1/2 lbs)
3 tbsp plus 1 tsp extra-virgin olive oil, divided
1 tbsp maple syrup
1/2 tsp cumin
1/4 to 1/2 tsp chipotle chili powder
1/4 tsp sweet paprika
1/4 tsp fine sea salt, plus more to taste
1/4 cup crumbled queso fresco
2 tbsp coarsely chopped fresh cilantro
Directions
1 Preheat the oven to 400°F. Slice the squash in half crosswise. Scoop out the seeds and pulp, discarding the pulp. Rinse the seeds and set aside to drain. Slice each squash half into 1/4"- to 1/2"-thick rounds.

2 In a large mixing bowl, combine 3 tablespoons of the olive oil, the maple syrup, cumin, chipotle chili powder, paprika and salt. Add the squash and toss to thoroughly coat.

3 Arrange the squash in a single layer on a large baking sheet, overlapping the slices slightly if necessary. On a separate baking sheet, toss the squash seeds with the remaining 1 teaspoon olive oil and a light sprinkle of salt.

4 Place the squash and seeds in the oven. Roast the squash, turning the slices halfway, until fork-tender, golden brown and caramelized, 20 to 25 minutes. Check on the seeds after 10 minutes and remove from the oven when golden brown.

5 Place the squash on a large serving dish. Sprinkle the toasted seeds, queso fresco and cilantro over the squash. This dish is best served warm.

Prep & cook time: 45 minutes
Serves: 4
---
BUY THIS BOOK
Excerpted from Vibrant Food by Kimberley Hasselbrink. Copyright Kimberley Hasselbrink © 2014. Excerpted by permission of Ten Speed Press. All rights reserved.