Recipes
Recipe: Dark chocolate fudge pie pop
Recipe: Dark chocolate fudge pie pop
Recipes
Recipe: Dark chocolate fudge pie pop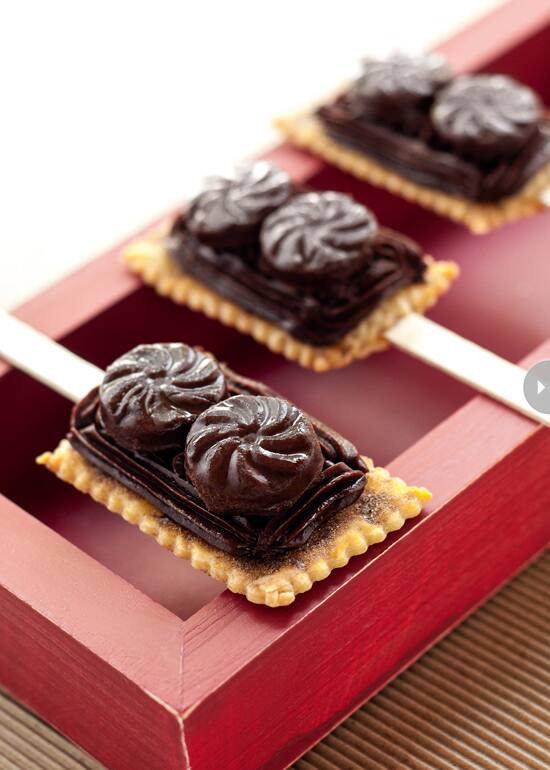 Ingredients
20–25 Popsicle sticks
1 9-inch refrigerated pie dough, at room temperature
1 egg white, beaten
1 (3.9 ounce) box chocolate fudge instant pudding mix
11⁄2 cups heavy cream
1 cup dark chocolate chips
5⁄8 cup sweetened condensed milk
2 tablespoons butter
Directions
1
Preheat oven to 350 degrees.
2
Soak sticks in water for 15 minutes.
3
On a lightly floured surface, roll dough out to 1⁄8-inch thickness.
4
Use a 3-inch rectangular shape cookie cutter to cut out dough bottoms.
5
Place bottoms on a lightly greased baking sheet. Push sticks into bottoms and use leftover dough to cover tips of sticks. Brush dough with egg white and prick with a fork. Bake for 11–13 minutes, or until lightly browned. Remove from oven and cool on a wire rack.
6
In a medium bowl, combine pudding mix and cream. Beat with an electric mixer on high speed until smooth and thick. Spoon pudding into a pastry bag with a large opening tip and pipe onto pops. Place in refrigerator to chill.
7
In a small microwave-safe bowl, combine chocolate chips, condensed milk, and butter. Heat in microwave on high for 2 minutes stirring every 20 seconds until mixture is smooth. Pour into candy mold of choice and place in the freezer for 10 minutes to set.
8
Pop candy pieces out and garnish tops of pie pops. Refrigerate until ready to serve.
Makes 20-25 pie pops.

---
BUY THIS BOOK
Excerpted from Pie Pops by Marcie Ballard. Recipes Copyright © 2013 Marcie Ballard, Photography copyright © 2013 Susan Hayward. Excerpted by permission of Gibbs Smith. All rights reserved.