Recipes
Recipe: Fava bean crostini
Use fresh fava beans for this tasty appetizer.
Recipes
Recipe: Fava bean crostini
A summer-fresh approach to crostini with fava beans and Parmesan cheese.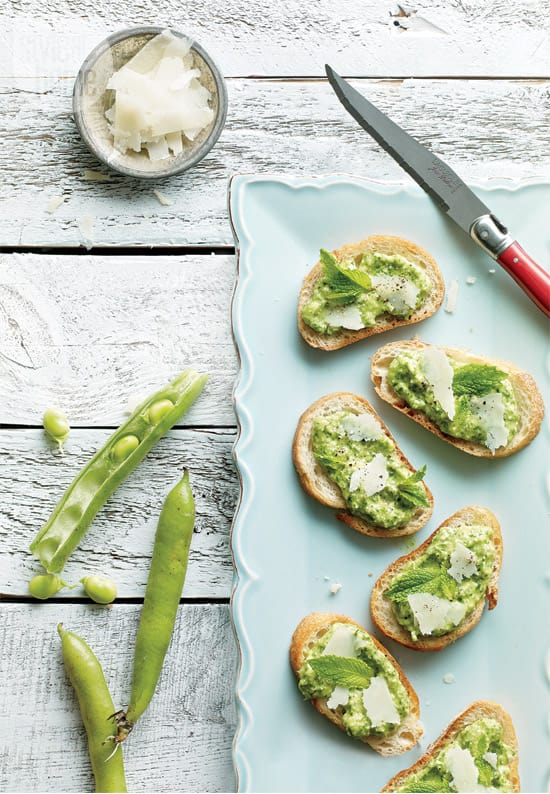 Ingredients
1/2 baguette, thinly sliced
2 cloves garlic, peeled and minced, divided
1/4 + 1/3 cup extra-virgin olive oil, divided
1 cup shelled fresh fava beans, steamed
1 to 2 cups baby arugula or spinach
1/2 cup freshly grated Parmesan, plus more for garnish
Freshly squeezed juice of 1⁄2 lemon
Salt and freshly ground black pepper to taste
Fresh mint leaves for garnish

Directions
1 Preheat the oven to 400°F. Lay the baguette slices on a rimmed baking sheet.

2 Stir 1 clove of garlic into the 1⁄4 cup of oil and brush a thin layer on each slice; toast for 7 to 8 minutes.

3 Squeeze the steamed fava beans out of their skins into the bowl of a food processor. Add the arugula, 1⁄2 cup Parmesan, lemon juice and remaining garlic; pulse to combine. With the machine running, pour the 1/3 cup of oil through the feed tube; pulse to combine.

4 Season with salt and pepper. Spoon the fava bean mixture onto the toasted crostini, sprinkle with Parmesan and top each with a sprig of mint; serve.
Serves 10