Recipes
Recipe: How to make an acai bowl
Learn to make your own acai bowl at home.
Recipes
Recipe: How to make an acai bowl
Use acai berries to make this delicious and wholesome breakfast bowl.

When acai berries burst onto the scene years ago, the berry from Brazil was often touted (by varying sources) as the newest superfood that would do everything from slow down signs of aging, bring about weight loss and fight cancer. While none of these claims have proven to be true (acai berries are not known to have greater health benefits than similar fruits), they are still high in antioxidants and are part of a healthy diet. That means they're a delicious and wholesome addition to any breakfast, especially when served as an acai bowl.
The best part about an acai bowl? Despite its high health quotient, it kind of, sort of tastes like dessert so it's really a win-win. Ready to make one? Here's what you'll need:

Ingredients
1 pack frozen acai berry puree (this can be found at grocery stores like Whole Foods as well as at other health food stores)
2 bananas
1/4 cup apple juice
1/2 cup granola
Handful of strawberries
Handful of blueberries

Directions
1 Run one package of frozen acai berries under warm water to thaw them slightly. Pour softened berries into a blender and combine with apple juice and one chopped banana. Blend just until all ingredients are combined. Mixture should be thick, not runny.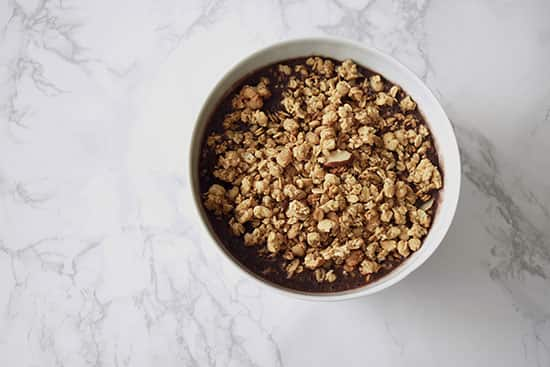 2 Pour berry mixture into a bowl and sprinkle granola on top.

3 Top with additional garnishes like a sliced banana, strawberries and blueberries.

4 Enjoy!

Serves: 2