Recipes
Recipe: Korean–style barbecue short ribs
Recipe: Korean–style barbecue short ribs
Recipes
Recipe: Korean–style barbecue short ribs
Fire up the barbecue and try out this savoury Korean-style ribs recipe!
This is a nice smoker version of Korean-style short ribs. The smoking gives them a great flavour, while the cooking in the pan helps to tenderize. Be sure to get cross-cut (flaken style) ribs to enhance the taste from the barbecue sauce marinade and for that great appearance. Once these are done, you might want to pull the meat off the bones and make some Korean tacos with it.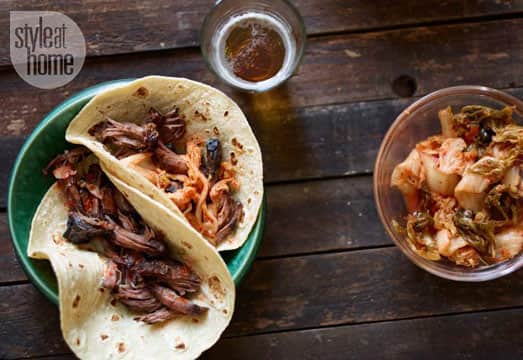 Ingredients
1 cup soy sauce
8 green onions, white and green parts thinly sliced
1⁄3 cup packed brown sugar
1⁄4 cup sesame oil
1⁄4 cup rice vinegar
6 large garlic cloves, crushed
2 tablespoons crushed peeled fresh ginger
1 serrano chile, minced
1 teaspoon sambal oelek (a spicy chili paste available in the Asian section of most markets)
3 pounds beef short ribs, cut across the bones flanken style about 1⁄2 inch thick
1⁄4 cup apple juice
Directions
1 To make the marinade: In a medium bowl, combine the soy sauce, green onions, brown sugar, sesame oil, vinegar, garlic, ginger, chile, and sambal oelek. Mix well.

2 Put the short ribs in a gallon-size plastic zip bag. Pour the marinade over them and seal the bag, pushing out as much air as possible. Refrigerate, turning occasionally, for at least 2 hours but no longer than 4 hours.

3 Prepare your cooker to cook indirectly at 235°F using medium cherry or apple wood for smoke flavour. Take the ribs out of the marinade and put them directly on the cooking grate. Cook for 2 hours, until nicely browned.

4 Meanwhile, pour the leftover marinade into a small saucepan and bring it to a simmer. Cook for 5 minutes and then remove it from the heat. Pour the marinade through a strainer. Reserve 1⁄4 cup of the liquid and discard the rest. In a small bowl, combine the 1⁄4 cup strained marinade with the apple juice. Mix well and set aside.

5 After the ribs have cooked for 2 hours, transfer them to a foil pan. Pour the juice mixture over them. Cover with foil and return to the cooker for another 2 hours, or until tender when squeezed between your fingers. Remove the pan from the cooker and let rest for 5 minutes. Transfer the ribs to a platter and pour any pan juices over the top. Serve immediately.

Makes 4-6 Servings.
---
BUY THIS BOOK
Excerpted from Slow Fire by Ray Lampe Copyright © 2012 by Ray Lampe. Photography by Leigh Beisch. Excerpted by permission of Chronicle Books. All rights reserved. No part of this excerpt may be reproduced or reprinted without permission in writing from the publisher.