Recipes
Recipe: Peaches & Blackberry Squares
Photography: Tango | Food Styling: Nataly Simard | Prop Styling: Caroline Simon
Recipes
Recipe: Peaches & Blackberry Squares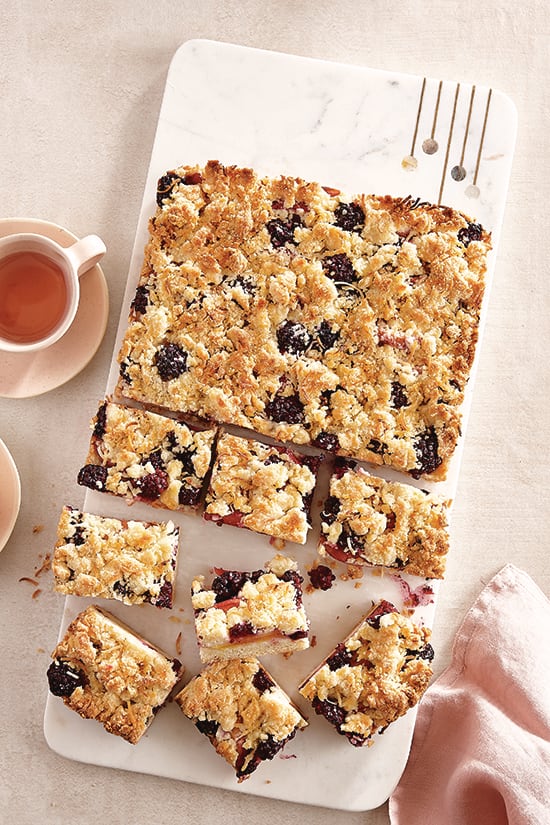 Photography: Tango | Food Styling: Nataly Simard | Prop Styling: Caroline Simon
Ingredients
3 cups all-purpose flour
1 cup white sugar
1 cup sweetened flaked coconut
1 tsp baking powder
1 cup unsalted butter, cold
2 large eggs, lightly whisked
3⁄4 tsp coconut extract
2 ripe peaches, halved and stoned
12 blackberries, halved, if large
Directions
Preheat the oven to 375°F.
In a large bowl, combine the flour, sugar, coconut and baking powder. Grate the butter in using a coarse cheese grater and use your hands to mix into coarse crumbles. Stir in the eggs and coconut extract, mixing to gently combine to a rough dough.
Press 3⁄4 of the dough into a parchment paper-lined 9-x-13-inch baking dish.
Slice the peach halves into 10 to 12 thin slices each. Scatter the peaches and blackberries over the dough. Use your hands to crumble the remaining dough over top, pressing gently to adhere.
Bake for 35 to 38 minutes until top is light golden. Allow to cool completely in the pan before cutting into squares.
Makes 24 squares.