Recipes
Recipe: Strawberry shortcake
Recipe: Strawberry shortcake
Recipes
Recipe: Strawberry shortcake
Whoever is responsible for the trend of subbing store-bought miniature angel-food cakes for shortcake in strawberry shortcake should be called in for questioning. Angel food's rubbery texture does nothing for the berry, and once it has absorbed any moisture at all, it becomes a soggy sponge that leaves you reaching for a toothbrush rather than seconds. BabyCakes NYC's rich, flaky shortcake is a perfect showcase for luscious strawberries. If the vanilla frosting is too sweet for you in the morning, the lighter vanilla sauce can be used with equal success. Did global warming ruin your summer fruit crop? Go with your favorite fruit preserves instead.
INGREDIENTS
3 cups white spelt flour, 
plus ½ cup for dusting
½ cup evaporated cane juice
1½ tablespoons baking powder
1 teaspoon salt
7 tablespoons coconut oil
1 tablespoon pure vanilla extract
²⁄³ cup hot water
vanilla frosting
1½ cups stemmed and sliced
fresh strawberries
PREPARATION
1 Preheat the oven to 350°F. Line 2 baking sheets with parchment paper.
In a medium bowl, whisk together the flour, evaporated cane juice, baking powder, and salt. Add the oil, vanilla, and hot water to the dry ingredients.
2 Combine until a slightly moist dough is formed.
3 Dust the counter generously with spelt flour. Roll the dough through the flour until it is coated on all sides. Gently pat the dough into a 1-inch‑thick rectangle and cut out 12 shortcakes with a 3-inch round cookie cutter. Place the shortcakes about 
1 inch apart on the prepared baking sheets. Bake the shortcakes on the center rack for 16 minutes, rotating the sheets 180 degrees after 9 minutes. The finished shortcakes will have a slightly golden, flaky crust.
4 Let the shortcakes cool on the sheets for 15 minutes, or until completely cool. Cut them in half horizontally and spread each side with 1 tablespoon vanilla frosting using a small offset spatula. Spoon 1 generous tablespoon strawberries onto one of the halves and top with the second half. Garnish with more frosting and strawberries. Store the filled shortcakes in an airtight container at room temperature for up to 2 days.
---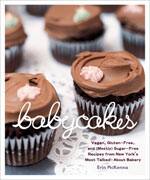 BUY THIS BOOK
Excerpted from BabyCakes: Vegan, Gluten-Free, and (Mostly) Sugar-Free Recipes from New York's Most Talked-About Bakery by Erin Mckenna. Copyright 2009 by Clarkson Potter. Excerpted with permission by Clarkson Potter. All rights reserved. No part of this excerpt may be reproduced or reprinted without permission in writing from the publisher.