Recipes
Recipe: Vegetables with barley and spiced yogurt
Recipe: Vegetables with barley and spiced yogurt
Recipes
Recipe: Vegetables with barley and spiced yogurt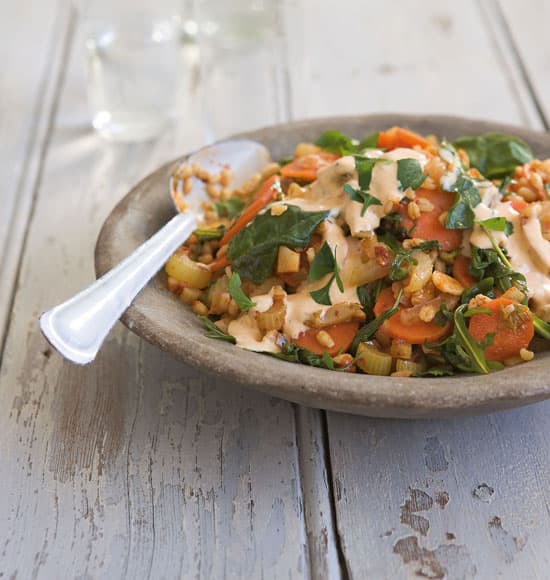 Ingredients
1 cup pearl barley
1⁄4 cup extra virgin olive oil
1 onion, finely chopped
2 garlic cloves, finely chopped
2 carrots, finely sliced
2 celery sticks, finely chopped
1 tablespoon Turkish pepper paste
1 cup chicken stock
1 bunch of spinach, stems trimmed, leaves rinsed, dried and coarsely chopped
1 bunch arugula, leaves rinsed, dried and coarsely chopped
1 cup Italian parsley leaves, chopped
Sea salt
Freshly ground black pepper
Spiced yogurt
1-1⁄2 tablespoons extra virgin olive oil
2 teaspoons cumin seeds
2 teaspoons sweet paprika
1⁄2 teaspoon dried chili flakes, or to taste
2 cups sheep's milk yogurt
1⁄2 teaspoon freshly ground black pepper
1 teaspoon sea salt, or to taste
Directions
Spiced Yogurt
1
Heat the olive oil in a small saucepan over medium-low heat.
2
Add the cumin, paprika and chili flakes and cook, stirring constantly, for 1–2 minutes, or until fragrant.
3
Remove from the heat, transfer to a small bowl and cool to room temperature. Stir in the yogurt,
salt and pepper
.
4
Cover with plastic wrap and refrigerate until needed.
Barley and vegetables

5
Cook the barley in a saucepan of simmering water for 30 minutes, or until tender. Drain well and cool to room temperature.
6
Meanwhile, heat the oil in a large saucepan over medium-low heat. Add the onion, garlic and cinnamon and cook, for 4–5 minutes, or until softened.
7
Add the carrot and celery and cook for 6–7 minutes, stirring regularly, until the vegetables have started to soften.
8
Add the pepper paste and cook, stirring for 1 minute, then add the stock and bring to a simmer. Cover the pan and cook over medium-low heat for 10 minutes, or until the vegetables are very soft.
9
Remove the cinnamon stick and discard.
10
Add the spinach, arugula, parsley and barley to the pan, stirring well to combine, then cover and cook for 3–4 minutes more, or until the greens have wilted. Remove from the heat and cool to room temperature.
11
Season with salt and pepper. Transfer to a large serving dish and serve the barley and vegetables with the spiced
yogurt
.
Serves 6.


---
BUY THIS BOOK

Excerpted from Turkey: Recipes and Tales from the Road by Leanne Kitchen. Copyright © 2012. Photography by Amanda McLauchlan. Excerpted with permission from Chronicle Books. All rights reserved. No part of this excerpt may be reproduced or reprinted without permission in writing from the publisher.