Wine & Spirits
Drink recipe: Blue Thai mojito
Drink recipe: Blue Thai mojito
Wine & Spirits
Drink recipe: Blue Thai mojito
Blue Thai mojito
Makes 1 drink

1/4 ounce blue Curaçao
1 1/2 ounces Bacardi Limon rum or Bacardi white rum
1 1/2 ounces Coco-Mint Syrup (recipe follows)
1 ounce fresh lime juice
2 ounces chilled soda water

For garnishing
Fresh mint and/or cilantro sprigs
Shaved coconut (optional)

Fill a tall glass with ice. Measure in the Curaçao, rum, syrup, lime juice, and soda water. Stir with a bar spoon. Garnish with fresh mint and/or cilantro and a sprinkling of shaved coconut, if using.

Coco-mint syrup
Makes three cups, enough for about 16 drinks

1 cup shredded sweetened coconut
1/4 teaspoon red pepper flakes
1 bunch fresh mint, torn
12 large sprigs fresh cilantro
2 cups sugar
2 cups water

Combine the ingredients in a medium saucepan and bring to a boil. Boil for two to three minutes. Remove from heat and let steep for one hour. Strain, pressing out as much liquid as possible, then discard the solids. Let cool to room temperature. If not using immediately, cover and refrigerate, for up to one month, until needed. Remix before using.
---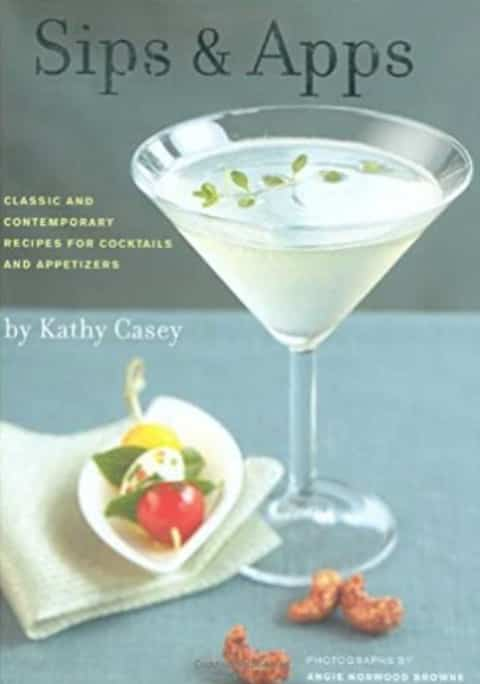 BUY THIS BOOK
Excerpted from Sips and Apps by Kathy Casey. Copyright 2009 by Chronicle Books. Excerpted with permission by Chronicle Books. All rights reserved. No part of this excerpt may be reproduced or reprinted without permission in writing from the publisher.