Before and After
Before and After: A Garage Transformed into a Gym
Before and After
Before and After: A Garage Transformed into a Gym
Hugo Girard and Saskia Thuot transformed a garage that was being used as a storage room into a bright and functional gym.
Gregory, the owner of this garage, offers free boxing classes and training. But the only place he had any space to do so was between... his dining room table and his couch!
To give him a boost, the host duo and their team of renovators, aided by Gregory's friends, energetically set about renovating his garage to provide a suitable place for his classes.
The result is impressive.
Garage Before
And After
Photo: Sphère Média
Photo: Sphère Média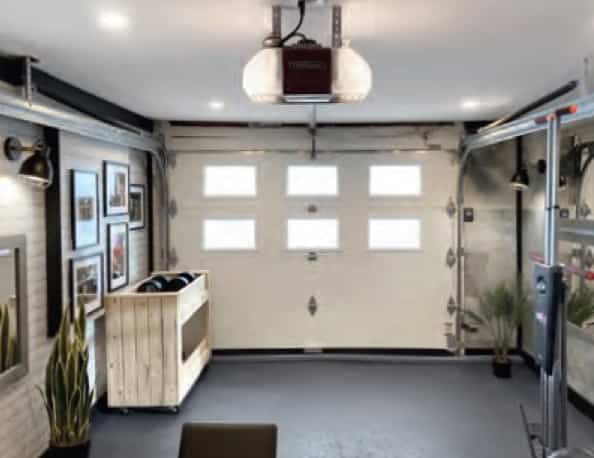 Photo: Sphère Média
Photo: Sphère Média
Transformation Process:
■ The first step was to empty the garage of all its contents. The damaged concrete floor was repaired and painted, and the ceiling was insulated before being covered with a suspended ceiling. The old and worn garage door was also replaced with a new model. The light colour of the door helps to brighten up the room.
■ To create an inspiring universe, we then tackled the walls by installing decorative panels: one with a concrete effect, the other evoking white brick. They create a young and dynamic urban look that fits with the workout!
■ We didn't forget about storage: closed cabinets, a shelf with baskets, a large bin on wheels, wall niches and hooks help Gregory to get organized and find everything quickly.
■ A garage light fixture, recessed ceiling spots and industrial-looking sconces provide efficient and flexible lighting.
■ The team thought of everything: under the workout equipment, rubber mats protect the floor. On one wall, mirrors allow Gregory's students to check their posture. And the wall in front of the machines is covered with blackboard paint with words of encouragement.