DIY Projects
3 holiday place card DIYs
Photography: Joe Kim | Producer: Stephanie Hung | Styling: Catherine Therrien
DIY Projects
3 holiday place card DIYs
Three different designs for your festive table setting to get everyone's appetite into the holiday spirit.


1 Watercolour

Materials

3.5 x 5" watercolour paper
Paintbrush
Red watercolour paint
Black fine point permanent marker

Instructions
1 Fold the paper in half widthwise.
2 Brush the paint onto one side of the paper, graduating the colour from dark to light; let dry completely.
3 Write the name in the centre of the painted paper.




2 Snowflake

Materials

Scissors
2.5 x 3.5" white card stock
Snowflake punch
Hole punch
Black pen
White twine

Instructions
1 Cut the card stock into a shipping tag shape.
2 Punch out a snowflake at the bottom of the card and a hole at the top.
3 Write the name at the top of the card.
4 Slip a piece of twine through the hole.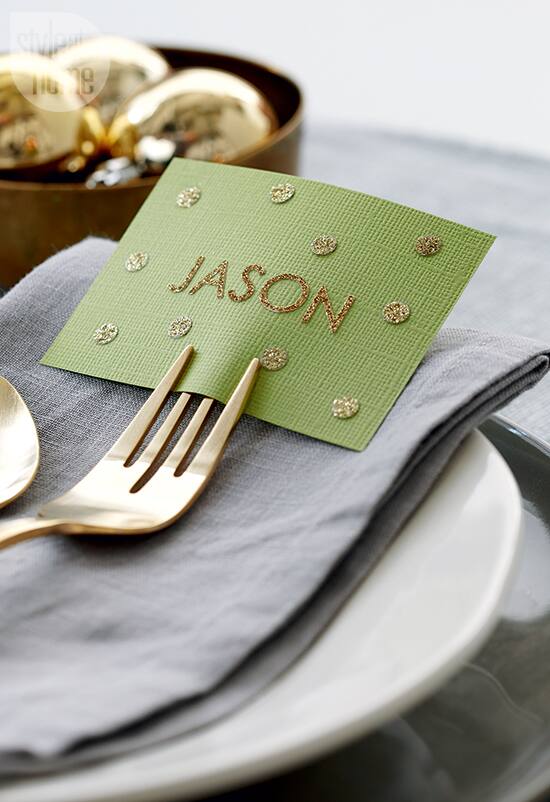 3 Gold member

Materials
Gold letter stickers
2.5 x 3.5" coloured card stock
Gold dot stickers

Instructions
1 Arrange the letter stickers in the centre of the card stock.
2 Add the dot stickers in a random pattern.

For more fab holiday hosting tips, check out our Ultimate savvy hostess guide!