DIY Projects
9 playful winter decorations made from everyday materials
DIY Projects
9 playful winter decorations made from everyday materials
Learn how to use everyday materials to create playful winter decorations.
Pull out the string, tape, paper and scissors – with a little creativity, these everyday materials can be transformed into decorations that bring to life a whimsical winter wonderland.
1 Wallpaper: Craft your very own snowfall with these pretty avant-garde snowflakes made by accordion-folding white craft paper into pinwheels and snipping with scissors. Add in one or two bold-hued pinwheels for impact.
2 Wrap stars: A tableau of gifts dressed up in white wrapping will lend an ethereal effect both under your tree and around your home. And don't skimp on the ribbon – let it trail delicately from the presents in long sweeping curls.
3 Advent honours: Forget brown paper pack- ages – these sweet gift bags embellished with paper cut-outs and "sewn" up with string make a fun Advent calendar. Numbered paper hearts on the ends of the ties indicate the days.
4 Bow beautiful: Rethink the ubiquitous holiday bows this year by making your own signature snowflake gift adornments using white craft paper and scissors. Use contrasting string to attach these beauties to your parcels.
5 Liner notes: Who knew simple white paper muffin tin liners could create such pretty towering trees? Stack them in different sizes and heights for a veritable frost-kissed forest.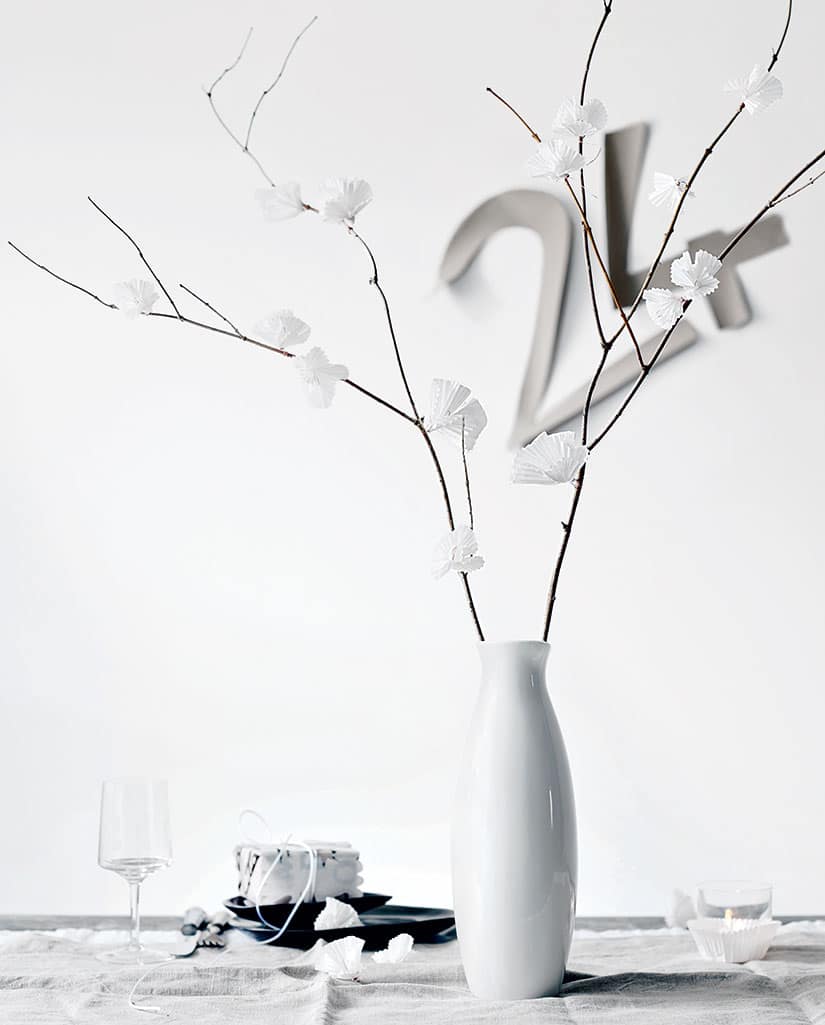 6 Branching out: Paper roses have nothing on these fragile flowers made from twists of white tissue. Easy to make and elegant to behold, this simple arrangement is a pure nod to winter.
7 Ball game: Few things are as satisfying as decking your halls with homemade ornaments. These delicate spheres are a cinch to make with strips of craft paper and string. Display them on your table, tree or mantel, or send them off with visitors as take-home treats after a holiday soiree.
8 Clever covers: Dinner guests will love these adorable covers made by cutting patterns into accordion-folded lengths of paper and securing them around drinking glasses with tree candle clips.
9 Snowy settings: Create the perfect holiday table covering by cutting snowflake patterns into a white paper runner. Continue the effect: Use similar stencils to powder the festive treats you serve.
Photography courtesy of Andreas Hoernisch/Living4Media