DIY Projects
The best (and easiest) IKEA hacks for fall
DIY Projects
The best (and easiest) IKEA hacks for fall
These affordable DIYs will give your home all the fall feels.
Since you'll be spending most of your time indoors from now to April (snow storms, we see you), what better season than autumn to do a little space re-vamp? If you're not looking to drop a ton of cash, try your hand at an easy IKEA hack, and transform a Scandi-chic piece into an expensive-looking attention-grabber.
We've rounded up the best DIYs from entryway organization solutions to cozy dining chairs.
1. Small shelving unit
Image by: Hawthorne And Main
Where else are you going to store your cozy blankets and autumnal decor? Shonee from Hawthorne And Main turned the beloved Kallax into a chic, mid-century modern piece, perfect for housing all of your cold-weather accessories. See the full DIY here.
2. Handy organizer
Image by: Ich Designer
There's just something about fall that makes you want to get organized. Kristina Steinmetz of Ich Designer used this $10 slatted bed base to create an organization hub. All you do is hang the slats on your wall and use S-hooks to attach baskets, kitchen utensils or clipboards. The best part is that you can customize it for any room in your home — office, bathroom and entryway. See the full DIY here.
3. Entryway console
Image by: My Fabuless Life
Fall brings with it so many fun accessories like hats, scarves and boots — but keeping them organized can be difficult, especially if you live in a small space. Enter the Vittsjo laptop table, which doubles as an amazing entryway console with space for baskets and shoes underneath. Jenn from My Fabuless Life took the plain, metal frame and hacked hers into a farmhouse-chic style. See the full DIY here.
4. Coffee essentials organizer
Image by: Robb Restyle
Having a coffee station on your kitchen counter makes mornings so much easier, having everything in one place. This DIY makes said station organized and look like your very own coffee shop. Kristy and Corey from Robb Restyle hacked the Moppe mini chest of drawers into a vintage-style organizer that looks like it belongs at a trendy flea market or hipster coffee joint. There's a spot for your espresso, coffee pods and even sugar. See the full DIY here.
5. Mug hanger
Image by: Swoon Worthy
On the topic of coffee, this glam brass rail is perfect for displaying pretty mugs. Kimberly from Swoon Worthy blog shows you how to create this functional piece here. (Don't worry — it's incredibly easy.)
6. Boho-chic throw pillows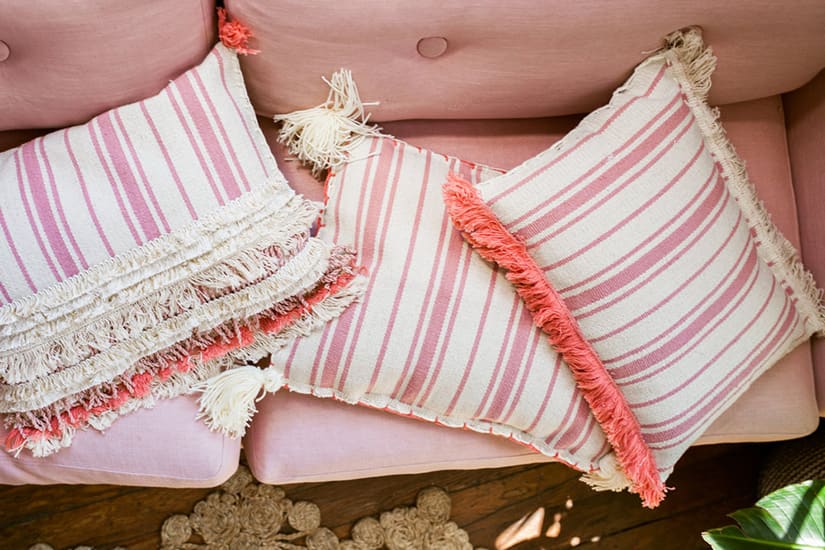 Image by: Treasures & Travels Blog
You can never have too many throw cushions — especially in the fall. Tegan & Lindsay from Treasures & Travels Blog made these incredibly on-trend throws complete with tassels and fringe using $4 IKEA rugs. Learn how to make them yourself here.
8. Cozy dining chairs
Image by: Frk Hansen
This simple IKEA hack by Frk Hansen will instantly warm up your dining table for the hosting season and give your space a cool Scandi-chic vibe. All you need are a couple of sheepskin throws to fasten on to your existing dining chairs and you've got yourself a cozy, Scandinavian-inspired dinner party setting. Get the full DIY here.