Organizing Ideas
11 haute closet organizing tips for a fashionable space
Organizing Ideas
11 haute closet organizing tips for a fashionable space
Essential organizing tips and tricks to keep your closets looking stylishly orderly.


We invest serious bucks in our wardrobes, so it's only right that we fashion gorgeous, well-organized spaces for them to live in. Here are 11 ways to do so.
Credits: Stacey Brandford
1 Get on a roll
Give your walk-in-closet some extra hanging storage as well as haute couture allure by incorporating a rolling rack. It will energize the space with a behind-the-scenes fashion show vibe, making you feel less run-of-the-mill and more runway ready when you dress for the day.
TRY THIS: Create a pretty vignette on your closet surfaces using wearable accessories, such as shoes and purses.
Credits: Virginia Macdonald
2 Tailor make it
Whether you go custom or use a big-box store system, take time to consider your needs and create your dream closet accordingly. If you're a shoe fanatic, for instance, opt for tons of shelves and pullout racks to accommodate your prized pumps.
TRY THIS: Extend your closet all the way up to the ceiling, upper cupboards are great to storing lesser-used items.
Credits: Yale Wagner
3 Reach new heights
Is your clothing collection larger than your closet space? Get a tall dresser to stash spillover.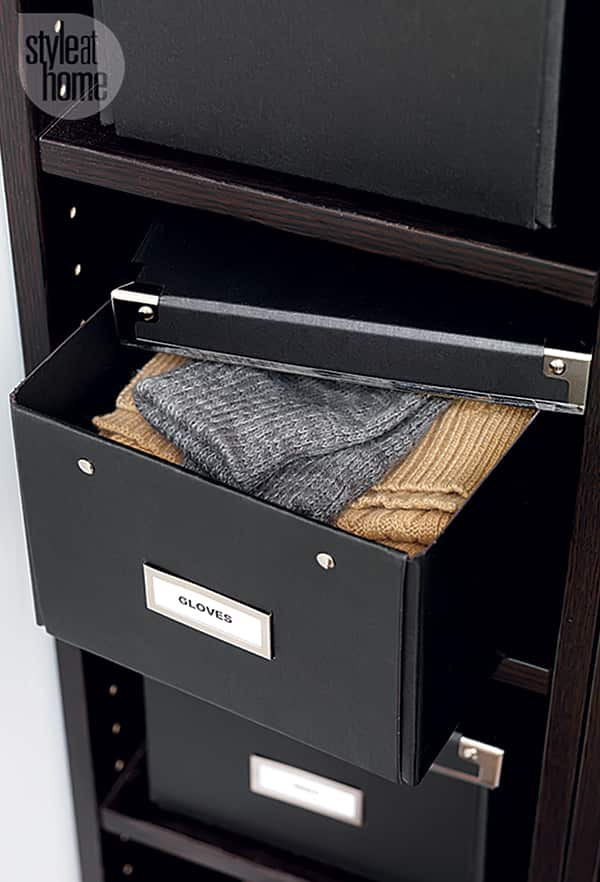 Credits: Stacey Brandford
4 Pack in the box
Cardboard boxes are tidy and stackable, making them ideal hiding spots for small off-season items, such as gloves and scarves.
Credits: Donna Griffith
5 Get fragrance fancy
Use a decorative tray to round up your favourite perfumes in your dressing room so you can easily match your scent to your mood.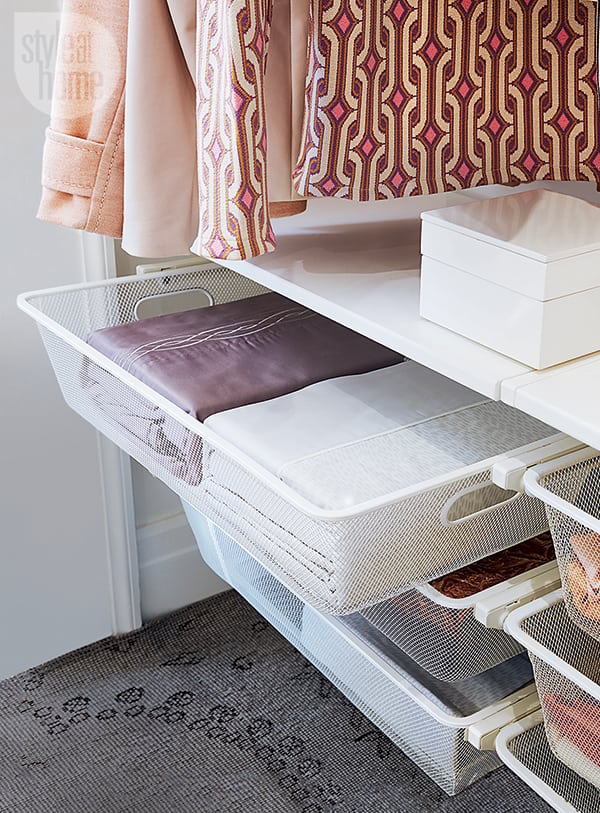 Credits: Donna Griffith
6 Store smartly
Rather than stockpiling all of your linens, dedicate a space in each bedroom's closet. That way, when the time comes to make the bed, clean sheets are right at hand.
Credits: Michael Nangreaves
7 Make a move
Don't confine yourself or your attire to a cramped closet. Seek out an unused space in your house (look in the attic and basement) for potential wardrobe real estate.
TRY THIS: Outfit an otherwise unadorned wall with picture ledges and floating shelves for displaying fancy footwear.
Credits: Janis Nicolay
8 Dress to impress
Considering how chic their contents are, closets can look downright frumpy. Luckily - as evidenced by these stylishly clad doors - a stunning makeover is just a few rolls of wallpaper away.
Credits: Donna Griffith
9 Prep a primping station
Pamper yourself by incorporating a vanity within your dressing quarters. Keep makeup and baubles handy in tidy organizers.
TRY THIS: Include drawer space in a walk-in-closet by using a stand-alone dresser.
Credits: Tracey Ayton
10 Embrace the rainbow
In addition to imparting a cheerful sense of order, arranging garments by colour will take the guesswork out of finding your pink blouse or green blazer - a total lifesaver when you're running late.
Credits: Tracey Ayton
11 Tighten your belts
Rather than hanging belts on the back of your door - where they can get scratched up (and, not to mention, make quite the racket!) - coil and compartmentalize them in drawer inserts.