Organizing Ideas
8 home office organizing essentials
8 home office organizing essentials
Organizing Ideas
8 home office organizing essentials
In a
home office
it's easy to let things build up. Paper, supplies and tools of the trade – they all need their place; because the key to getting things done is being organized. You want things to be in sensible, reachable spots. Easy to find, easy to get. No matter what space you're working with, there are lots of ways to achieve this. Here are a few ideas to get you started and to help you turn your
home office design
into a perfectly organized oasis.
Corner hutch
Corner
desks
are great because they give you room to spread out. Add a hutch on top to spread
up
as well. It'll give you an additional three levels of storage without taking up too much workspace real estate.
Pottery Barn, $461.78
.
Stylish storage bins
Depending on your line of work, you may need to store samples or excess files long term. Keep them dry and out of the way in plastic bins like these – transparent but decorative.
See Jane Work, $2.49 - $7.49
.
Office armoire
Sometimes a
home office
is no more than the extra space in the spare guest room. If that's the case, an armoire is very useful. It has space and shelving for all the essentials and can be closed up when company arrives.
amazon.com, $99
.
Filing cabinets
A filing cabinet can be a home office worker's best friend. From client files to tax files, keep it all straight in these brightly coloured cabinets.
CB2
,
$189
.
Recharge station
Are you someone who's so plugged in, you can never actually plug everything in at once? Try this recharge station. It's a stylish way to dock and charge multiple
stylish tech
gadgets at once.
Pottery Barn, $104.53
.
Lacquer office
From reading materials to writing utensils, keep things organized in these stylishly simple, white lacquer desk and
office accessories
. They'll dress up the space while keeping everything in its place.
West Elm, $9.47 - $41.02
.
Birch storage boxes
In a typical office, there's a central location for
office accessories
, for little things like paper clips, folder labels, pens and the like. Keep your home office just as tidy and organized with these attractive boxes.
CB2, $34.95 (set of 4)
.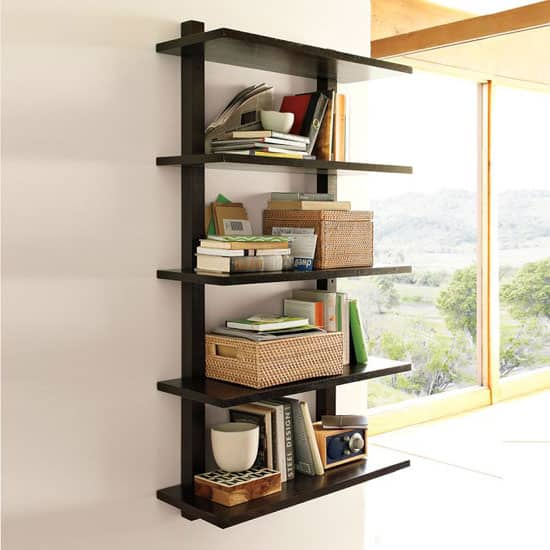 Wall mounted shelving
The nice thing about wall-mounted bookshelves is that they don't shrink the room by taking up floor space. They provide ample room to store books, supplies and even a photo or two. They are a
beautiful way to display books
too. The shelves on this model are deep enough to accommodate baskets as well.
West Elm, $272.41
.