Organizing Ideas
How to: Caring for Christmas ornaments
How to: Caring for Christmas ornaments
Organizing Ideas
How to: Caring for Christmas ornaments
Vintage baubles are so precious. Keep them at their best with tips from our resourceful research editor, Mary Levitski.
With the
holiday season
just around the corner, here are three easy ways to care for your precious
ornaments
, and make them last longer.

1 Storage
For vintage decorations, damage is more easily avoided than reversed, so proper
storage
is critical. Choose a dry, dark spot, as humidity can harm the materials and light will cause the colours to fade. A compartmentalized container (DIY or store-bought) will help prevent breakage. Wrap each individual piece in acid-free tissue paper before putting it away. Make sure it fits snugly in its place: not too tight, not too loose. To make future holiday seasons a breeze, label each box.

2 Cleaning
If possible, avoid cleaning ornaments. Spending only a few weeks a year out in the open means they can go many Christmases between cleanings. Due to their delicate – and often glittery – nature, a light touch is essential (never apply water or soap!). Remove dust with a soft cloth; use a small round-tipped brush to get dirt out of nooks and crannies.

3 Repairs
Embrace imperfections. Don't try to touch up any chips with paint. Matching the colour exactly is nearly impossible.
Ornament Organizers
1 Cardboard
Acid-free cardboard blocks out damaging ultraviolet light.
Archival 28-piece ornament storage box, The Container Store, $32.
2 Vinyl
The zipper on this polka-dotted vinyl box ensures all manner of dust stays out.
Real Simple Holiday 64-piece ornament storage box, Bed Bath & Beyond, $18.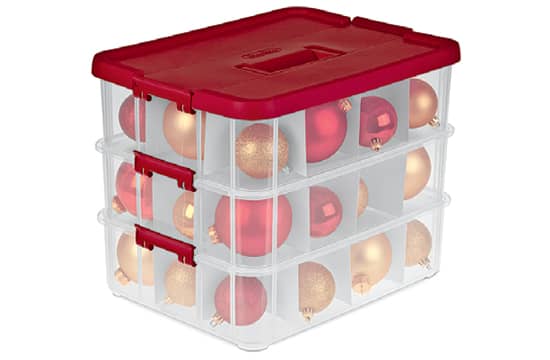 3 Plastic
Keep track of contents with a set of three clear bins that stack and lock together.
Stack & Carry 36-piece ornament storage box, Walmart, $15.



Stylish solution
Love the vintage appeal of passed-down decorations but not the maintenance they require? Opt for reproductions. Christopher Radko has a line inspired by popular
Shiny-Brite pieces from the 1940s and '50s, Hudson Bay, $30 per 9-piece set.