Organizing Ideas
How to: Organize your linen closet
How to: Organize your linen closet
Organizing Ideas
How to: Organize your linen closet
Is your linen closet a wasteland of tattered terry-cloth and threadbare linens? Our simple 12-step program will help you rehabilitate the space and turn it into an oasis.
1 Outfit your closet with adjustable shelves placed 10 to 12 inches apart. Leave room between the top of a stack and the shelf above for air circulation.

2 Organize linens by type (bed, bath, table), then by room (master bedroom, master bath, kids' bedrooms). In this closet, the second shelf from the top has master bed linens on the left and master bath towels on the right. The son's linens are on the next shelf down – towels on the left, bedding in the centre. The daughter's linens are on the bottom shelf.
3 Attach peel-and-stick office labels to shelves and fabric baskets (use tags for woven ones), so everyone can find what they're looking for.

4 Colour-code linens for each member of the family. In this family, it's crisp white towels for Mom, navy for "the boys" – Dad and son – and cheery yellow for the daughter.
5 Invest in dedicated sets of linens so that you can pamper your house guests. Here, both guest bed and bath linens are stacked on the far right of the bottom two shelves.



6 Fold bed and bath linens so that they fit on shelves with no material overhanging. Arrange them in short stacks with the folded edge forward; the closet will look neat, and items will be easier to remove and replace.

7 Stacks of face cloths tend to topple over, so corral them in a fabric box. Store them behind the stack of matching towels or between stacks.

8 Use the highest shelf to store antique linens, seasonal and other seldom-used linens. Wrap sets in cellophane to protect them from dust; label each pack with the quantity, so you know how many are in each set.
9 Out-of-season quilts and throws can be stored out of the way in a basket at the bottom of the closet.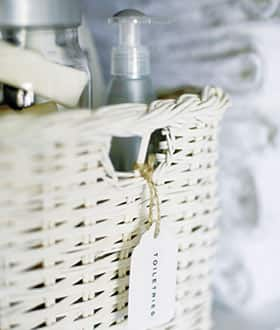 10 Keep a basket of fresh toiletry supplies for each bathroom in one central location. That way you can see at a glance what needs replenishing, and products won't take up precious space in each bathroom.

11 Keep nontoxic cleaning products close at hand, but away from linens, ina bucket on the floor. Hazardous items should be kept out of reach of children.

12 If you have a long linen tablecloth, hang it on the back of the door, over two wooden hangers, protecting it from the wood with a double-folded layer of acid-free tissue. Add another layer of tissue on top of the cloth to protect it from dust. Alternatively, roll the cloth around a cardboard tube, then add a layer of acid-free tissue.

STYLE AT HOME's guide to household linen essentials

3 sets of sheets and cases for each bed: one for the bed, one for the laundry and one for the linen closet.
2 sets of shams for pillows that aren't those used for sleeping.

1 duvet or comforter for each bed.

2 duvet covers for each duvet.

1 lightweight coverlet for each bed.
1 blanket or throw for each bed.

For each bathroom: three sets of two matching hand towels.

For each adult: three bath sheets or towels, and six face cloths.

For each child: three bath towels, and six face cloths.

For each guest: one sheet set, two shams, one duvet, one duvet cover, one blanket, one bath sheet and two face cloths.