Organizing Ideas
Stylish study spaces
Organizing Ideas
Stylish study spaces
There's nothing like September to bring out the student in everyone. Evenings and mornings spent hunched over books, writing papers and answering math questions will bring up memories for anyone. With all that kids and teens have on the go today, it's never been more important to create a space where your kids can feel comfortable, excited, creative and inspired (yes, we said inspired!) when it comes to getting all that homework done. To get the new school year off to a great start, we've sourced amazing finds to establish a stylish, comfortable and functional
workspace
for kids and teens.
Personalized mouse pad
Really make the space, whether it's in their room, in a nook in your home, or at a desk near the
family room
, feel like their own. Little touches can make an ordinary desk and computer seem extraordinary. Take this personalized mouse pad, for example – swirly fonts and a fun pattern brighten up a space, and it's easy to find more masculine mouse pads for your teen guys, too.
Etsy
,
$12 US
.
Shelving storage
Reaching for that history textbook or biology book can seem more fun if its home is an organized bookshelf with character. And an organized
study space
will mean work can get done more effectively, quickly and easily (and what child, teen or parent doesn't want that?). The bright, bold colours of these shelves make them easy to personalize for your child.
Casalife, $262
.
Stylish chairs
Finding a chair that's ergonomic and stylish used to be a tough task, but
home office chairs
now come in such a wide selection of colours that you might have a difficult time deciding on what hue to actually go for. Bright pinks, purples, and yellows are perfect for young girls and teens, while blues, reds, oranges, and metal finishes work well in more
masculine chic
spaces. Even if everything else in the space is neutral, a bright pop of colour can provide personality and inspiration.
Ikea
,
$39.99
.
Creative calendars
Keeping track of after-school activities, new classes, due dates and upcoming projects (not to mention a busy social life) can be a daunting task for any kid or teen. Make it fun, stylish and easy to meet deadlines with a unique calendar to post notes on. These numbers are all made from recycled magazines, so each will be unique, and the magnetic backs secure notes to a board easily. A great addition to any
home office
.
Etsy, $25 US
.
Tech accessories
So you have a laptop, desktop or other
stylish tech accessories
already, but to really make a space cool and useful for kids and teens, a tablet or iPad is always a fun way to go – not mention a space saver. They can work on homework, do research and be creative all in one. Plus they have the freedom to move around from room to room with it.
Future Shop, $499.99
.
A sturdy desk
If you're going to spend some extra money on one aspect of your kid's study space – and if you want something stylish and functional – consider investing in a high-quality desk. Opt for a classic style, made from real wood or recycled wood materials, and something that is sturdy and can sustain a little wear and tear. A classic desk can be adjusted to any point of your child's life with the right
home office accessories
, but the quality will ensure it lasts year after year.
Pottery Barn, $645.04
.
Magazine holders
What teen doesn't have a slew of magazines that they covet? Whether it's fashion and beauty glossies, music reads, or sports magazines, they all need a
stylish storage
place to go once they are finished leafing through them. Store their favourite reads in sleek metal magazine files that come in
bold colours
or a simple silver.
Ikea, $9.99
.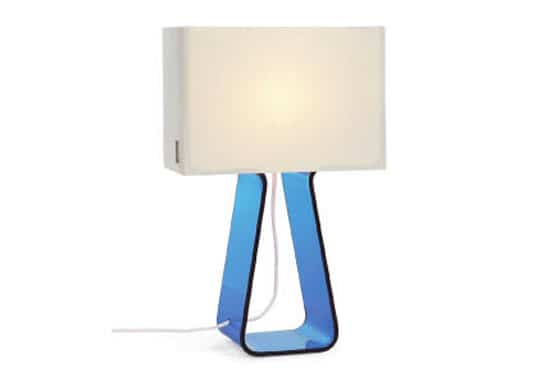 Desk lamps
Lava lamps, be gone. You can have something funky, colourful and still stylish when it comes to tabletop
lighting options
. Let your child or teen pick their favourite colour to add some personality to their study space; the shape and sleek style of this desk lamp will always be fun.
Casalife, $138
.
Maintain your focus by keeping your study area clean with these organizing tips for study spaces.