As a pet owner, your furry friends are an important part of the home dynamic. Unlike kids who eventually learn how to fend for themselves, pets require constant care and special amenities; from where they sleep to what they eat to where they do their 'business.' But messy litter boxes and unsightly dishes can detract from your home's style. Here's a round-up of 12
stylish accessories for your pet
that will fit right in to your
home decor
.
Dog mats
Master placemat maker Chilewich has spun out these adorable pet mats to keep food bowls in place and (hopefully) reduce spills. For cat owners – they also make fish-shaped ones.
chilewich.com, $35.
Bambu hammock
This dog hammock is perfect for flopping out after chasing the ball all day, but chic enough to blend in with any
living spac
e.
petloungestudios.com, $169.99.
Wine crate feeder
Rich-looking repurposed wine crates make refined
dinner
dishes for your cat or dog. And like bar height tables versus traditional ones, they come in varying heights to accommodate pets of different sizes. Depending on the number of furry friends in your home, they're also available in single, double or triple bowls.
whineranddiner.net, $160-$355.
Kittypod couchette
The curved lines of this
modern
piece offer spots for curling up or hiding out. But the real beauty of it is… it's also a scratching post.
allmodern.com, $269.99.
Pet food storage canisters
Tired of having to hide ugly pet food bags and give up valuable cupboard space? These metal canisters solve the problem with
retro
'general store' visual appeal.
frontgate.com, $45-$59.50.
Operetta pet lounge
Consider the scenario: You kicking back, listening to your favourite tunes. Your pup chilling with you in this ultra-hip lounger shaped like the Hollywood Bowl. Does it get better than that? The frame is available in white or brown finishes.
switchmodern.com, $720.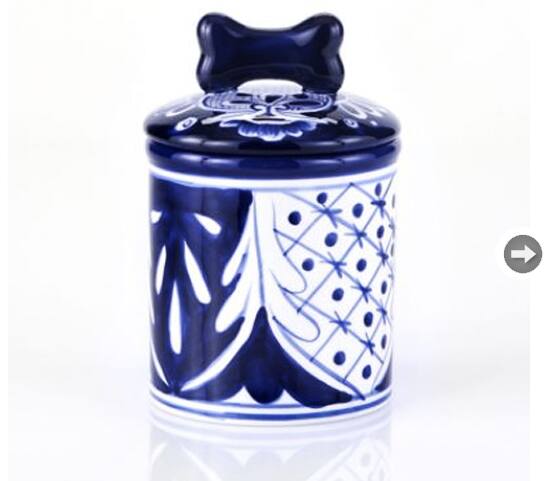 Treats jar
No more bending low or reaching high to reward your
pet
with a treat. This hand-painted ceramic canister is stylish enough to stand alone or blend in with others on your
kitchen countertop
.
frontgate.com, $40.50.
Townhaus animal home
Dogs may be a man's best friend, but they take up a lot of room on the bed! This cleverly designed dog house doubles as an elegant
nightstand
, making it easy for you and your pup to hang out and get a good night's sleep!
puremodern.com, $449-$575.
Ultra-modern scratching post
Function and art in one. These "Skiitch" sculptural scratching posts make an eye-catching statement in your home while saving your
furniture
from kitty claws. They're made of heavy-duty corrugated cardboard mounted on a sturdy cement base.
kassenlifestyle.com, $190 (incl. shipping).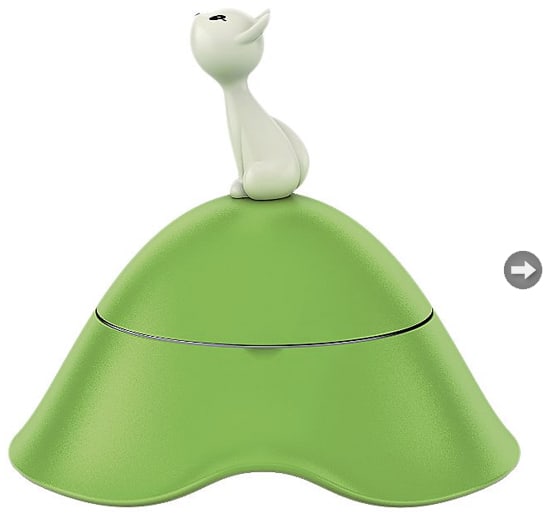 Covered cat bowl
This Alessi Mio Cat Bowl is sweet, elegant and perfect for the
modern kitchen
. It helps keep food fresh and prevents overeating. Lift the lid for feeding time and replace it when it's time to remove temptation. For dog owners, try the Lula Dog Bowl.
lumens.com, $70.
Wooden cat quarters
This sleek and stylish piece is perfect for
small space
homes. It's a three-in-one stop for your cat. Food dishes are fixed into the frame to contain spills (but easily removed for cleaning). Kitty can slip in the side to use the
bathroom
. And the cushion lifts up so you can clean the litter box. On top of all this – it's the perfect place for a cat nap.
puremodern.com, $599.50.
Banana leaf cat cove
It's hard not to smile at this Banana Leaf Cat Cave. It's just like a kitty Papasan chair. Perfect for the sun room next to your own
lounge
or reading nook!
meijer.com, $99.99.