Renovations
10 handy design apps
Renovations
10 handy design apps
With these helpful apps you can carry all the details of your home renovation with you everywhere you go for inspiration and to stay organized.
Chances are you're already using your iPhone to capture amazing home interiors and to take snaps of that great sofa or chair, so take it to the next level and get the right app to help you store, organize and display this info. Whether you're renovating a whole house or re-creating a look for the living room, there are so many apps that can help not only as tools, but also as sources of inspiration.

A smartphone or tablet device is indispensable when you're decorating or renovating, especially if you're working with precise measurements you need at your fingertips, or as a repository for all your inspiration shots. Take it with you when you go shopping and you'll be surprised how often you use it not only as a reference tool, but as a photo journal. Here are some of the best apps we've found.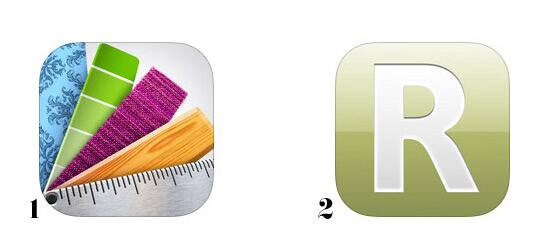 1 Homestyler Interior Design
Macworld Magazine selected this app as one of Apple's best products in 2013. Upload a photo of your room and change paint colours, hang light fixtures and arrange furniture with the touch of a finger. iTunes, free.

2 Remodelista
Remodelista bills itself as a "sourcebook for considered living." We would agree: it's much more of a glorious source of inspiration than a tool kit. The Remodelista app offers daily inspiration, DIYs and product round-ups that are perfect for perusing over your morning coffee. iTunes, $2.99.
3 Polyvore
While technically Polyvore is a fashion app used to design magazine-style pages of clothes and accessories, it's actually become something of a must-have for decorators who use it to make decor mood boards. Best of all, it's free and easy to use. iTunes, free.

4 Houzz Interior Design Ideas
The website Houzz has quickly become an encyclopedia of decor images, and it's also available as an app. It's worth downloading because it's free, highly rated by users and it's quite addictive. iTunes, free.
5 Interior Design for iPad
This isn't merely a decorating app. Interior Design for iPad is a heavy lifter for interior designers (and novices) that creates professional quality floorplans and elevations. Once you've designed a room, you can even do a virtual walk-through. Time Magazine named it one of the Top 50 must-have iPad apps. iTunes, $9.99.

6 iHandy Level Free
Are you hanging a few photos, and you're not quite sure if they're level? Use this attractive virtual level on your iPhone, complete with a retro-style faux woodgrain effect. It's not a carpenter's level, obviously, but it's ideal for little jobs around the house. iTunes, free.

7 Home Design DIY Interior Room Layout Space Planning & Decorating Tool - Mark On Call for iPhone
Widely regarded as one of the most intuitive floorplan apps in the iTunes store, "Mark on Call" is the affordable, go-to app if you're moving and want to know if your furniture will fit in the new space, or if you just want to move your furniture around virtually without the back strain. iTunes, $2.99.

8 Magpie by Conran
The Conran here is none other than esteemed British designer, writer and retailer Sir Terence Conran. His Magpie app is a stylish scrapbook tool, a place to organize photos, and even take videos and audio clips. One of the notable features is the ability to make pretty moodboards and turn them into PDFs. iTunes, free.
9 Colour Capture
Take a picture of anything at all, like a lemon-hued wall or a midnight blue handbag, and Benjamin Moore's Colour Capture app will tell you which of its 3,300 paint colours it matches. It's particularly great for the times when you love a paint colour but no one can recall the name of it. iTunes, free.

10 Photo Measures
This is a must-have app if you're renovating a space like a kitchen or bathroom. It superimposes measurements over a photo, which is quite convenient when you're appliance or fixture shopping. It's also a useful tool for communicating with your contractor or decorator. iTunes, $6.99.