Renovations
How to: Paint outdoor furniture
Renovations
How to: Paint outdoor furniture
Before painting your outdoor furniture make sure you're prepared with these outdoor painting tips.
When undertaking a DIY project there are usually a few things to consider. Add temperamental weather to the list and suddenly that little list has multiplied. How do you prepare your furniture for painting? What type of paint do you use? How does it differ for different types of material?

Though the process of painting outdoor furniture may seem daunting now, the best way to go about a DIY job is to be prepared. We talked to an expert at Canadian Tire to do just that. Michael Bache, Category Business Manager at Canadian Tire, shares his prepping and painting how tos to help put your DIY nerves at ease.


1. What supplies will you need for prepping and painting?
Depending on the state of the furniture (e.g. new wood, old plastic, painted metal, painted wood) and the type of paint chosen, a variety of items should be considered.

If using brush-on paint, consider using a primer before applying a new fresh coat of colour. When priming your furniture, make sure to use a good quality paintbrush and rags or drop cloths for clean-up. However, if you're using Krylon® Fusion™ no primer is required.

If repainting a metal or wood surface that has loose peeling paint, it must be removed for best adhesion. You can use sandpaper, steel wool, wire brush, scraper, or a stripper. You may require a tack cloth to clean up dust residue when sanding. If sanding a latex paint, a simple damp rag will work just fine.

2. Do these steps differ when prepping different materials, such as metal, plastic, wicker or wood?
Yes. Some products don't require primer, saving you a prep step. Using an aerosol is a benefit, too, as you also save a step in the prep. It generally dries faster and doesn't require clean-up since no paint brushes are involved. Even better, aerosols tend to give a factory style, air brush finish when applied properly, as opposed to a brush-on paint.

Bare wood generally requires a primer to seal the wood prior to painting as the surface is porous. The primer is used to provide a nice, smooth finish. Krylon Dual saves a step on both bare wood and metal since it primes and paints in one easy step. This saves time and allows people to have more time enjoying their furniture and less time prepping it!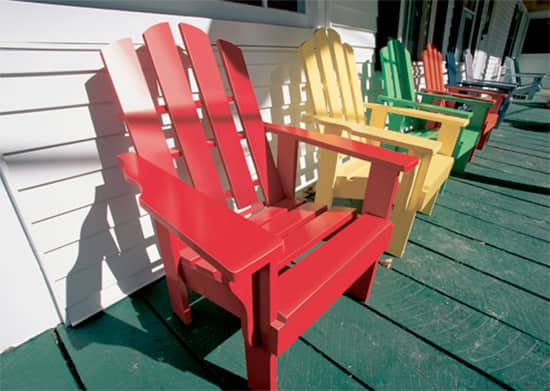 3. What type of paint should you use for outdoor furniture?
Always follow the directions on the label for specific product use. This will ensure proper adhesion to your surface.

Plastic patio furniture should only have a paint specifically designed to adhere to plastic and hard-to-bond surfaces. Many general purpose paints can adhere to most surfaces except plastic.

For wicker or rattan, spray paints tend to make a nicer finish and easily gets into the grooves. Muskoka chairs are also easier to paint when using an aerosol as opposed to a paint brush. Now there's even an aerosol wood stain by Krylon. Spray stains make fast work of Muskoka chairs and planters - no brushes to clean up either.

4. What about rust prevention?
Paint designed especially for metal surfaces tends to add rust protection into the paint - make sure the paint says "rust proofing" or "rust inhibiting".

As our climate changes, U.V. rays are also a consideration - they're hard on our skin and our exterior patio furniture! Some paints actually have U.V. protection in their paint. This will help protect your finish to resist harsh weather conditions. We suggest storing patio furniture during the fall and winter months when not in use. If space is a problem, a variety of covers and tarps are available to help protect your investment.
5. What are the best painting methods to use?
Much of this is personal preference. However, some surfaces, like wicker and rattan, have a nicer finish when sprayed versus brushing.

6. What kind of finish, if any, should you use?
Most paint companies offer a variety of finishes to choose from - satin, gloss, textured, metallic, hammered, and more. As long as you use an appropriate paint for your exterior surface and follow the instructions, you should achieve the finish you want. The really nice thing about the variety of paints and finishes available is that people can turn "garage sale finds" into treasures. Mixing and matching old and new creates a different and personalized patio set.

7. How many coats should you use?
Follow the instructions on the can, however many paints suggest two coats. When painting remember this rule of thumb: Thinner coats are better than thicker coats. Thinner coats dry faster and produce a harder finish.

8. What should you look for in a brush?
Is it the right paint brush for your paint? Oil-based paints generally have different bristles than latex paints. The brush label will specify this.

Is the paint brush the right size to do your project? If you are painting furniture, smaller brushes may be better. Ensure it fits into your paint container.

A roller can be great for large flat surfaces, like a tabletop. This can help reduce brush marks, too!

9. How does climate affect the painting process?
Weather is a big factor. For the most part, if you're getting a sunburn and sweating, it's probably too hot to paint. This will cause the paint to dry too fast. If it's too windy and you're using an aerosol paint, your paint may dissipate before it reaches the surface. Either wait for the wind to die down or use cardboard to build a spray tunnel. Humidity can affect the paint's dry time, which leaves more time for surface imperfections to take place on your finish. In general, 21ºC and about 50% humidity are ideal conditions for painting.

10. Any last tips?
Remember to protect other surfaces if working outside by using masking tape and drop cloths. Most importantly, regardless of your project, remember to always read product labels thoroughly and follow directions.