Renovations
Purchasing a fireplace for your home
Purchasing a fireplace for your home
Renovations
Purchasing a fireplace for your home
Let's face it, winter is here to stay. And nothing helps take your mind off the snow like curling up in front of a cozy fire. But before you start dreaming of marshmallows and hot cocoa, you'll have to decide which type of
fireplace
is right for your home and your pocketbook. Here's what you should consider before you make your choice.
Photography courtesy of iStockphoto.


Wood burning
There's something satisfying about a traditional wood-burning fireplace, but before you get caught up in the romance of it all, let's get practical for a second: They're a lot of work. They require constant maintenance – and not just of the fire itself (someone has to keep it going!) but also of your chimney, which should be cleaned at least once a year. While this option is the real deal, it doesn't guarantee efficiency. In fact, wood-burning fireplaces are notoriously inefficient – heat loss and drafts are common problems. If you're just looking for occasional ambience, it might be the right choice for you, but be sure to investigate insurance costs before you commit – that alone may be more than you bargained for!
Pros and cons:
Nothing compares to the real thing.
Inefficient and labour intensive.

Photography courtesy of iStockphoto
.


Gas
fireplaces
Gas
fireplaces
are super-efficient and give you the feel of a wood-burning one without all the fuss. No sourcing wood, no stoking the fire and no annual maintenance on the chimney. Gas fireplaces are ideal for those of us who want the luxury of a fire but with modern convenience, and prefer a more
eco-friendly fireplace
option. Depending on the model (and your budget), they can also be outfitted with remote controls, programmable thermostats and timers. If you're wondering if this is expensive, it is. And if you don't already have gas and vents in your home, you could be in for a case of sticker shock – the installation of a gas line is generally charged by the foot and has to be done by a certified technician.
Pros and cons:
Easy and convenient.
Installation has a big price tag.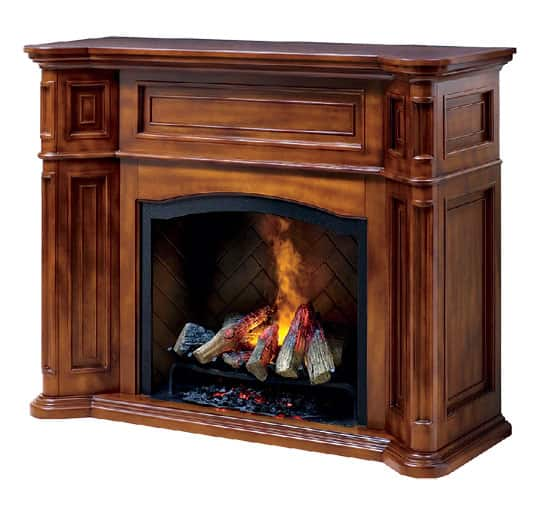 Photography by Stylish Fireplaces by Huntington Lodge

Electric
fireplaces
Electric fireplaces have come a long way from the cheap, plastic, fake-looking models that first appeared on the market in the '80s. The options are numerous and continuously getting more and more realistic. No one is going to think it's the real deal, but it looks close. If your main concern is aesthetics, electric might not be the way to go, but there are some definite pros to consider. Electric
fireplaces
are extremely affordable (we're talking less than $500), are portable, great for
small spaces
and require no installation. If you have wall space and an electrical outlet, you can have an electric fireplace.
Pros and cons:
Inexpensive and works in any space.
Can look fake.