Renovations
shopping for new hardwood floors
Renovations
shopping for new hardwood floors
I don't know if any of you have ever been in this position but the past few years have been tough ones for me and my family. My father passed away in March 2009 and it's been a long and difficult journey of recovery and healing. Overcoming the overwhelming grief has not been easy and now, two and a half years later, we're still struggling to understand and accept. But life has a way of pulling you along, even when what you want most in the world is just to stand still. My mother has finally reached the point where she is ready to sell our family home and move into a smaller, more manageable space. We finally found a
condo
that was perfect for her - large and spacious with an incredible ravine view. The size and layout of the space were ideal but the decor - not so much. We decided to take the condo anyway, and
renovate
it from top to bottom to turn it into a space that she'd love for the years to come. First job:
Flooring
. The existing space had laminate flooring that had seen better days. The finish was dull and scratched and just looked old and worn - and not in that charming way that hardwood often has. After contemplating our many options, we ended up at
Lumber Liquidators
and found a wealth of choices. According to their website, "Lumber Liquidators' floors can be found in the homes of notable figures such as the late Jacqueline Kennedy Onassis, Donald Trump, Angelina Jolie, Kim Basinger and numerous others." Well, if it's good enough for them ...
The Lumber Liquidators location at Hwy 400 and Steeles in Toronto is bright and spacious, offering rows and rows of gorgeous hardwoods, laminate, bamboo and cork flooring.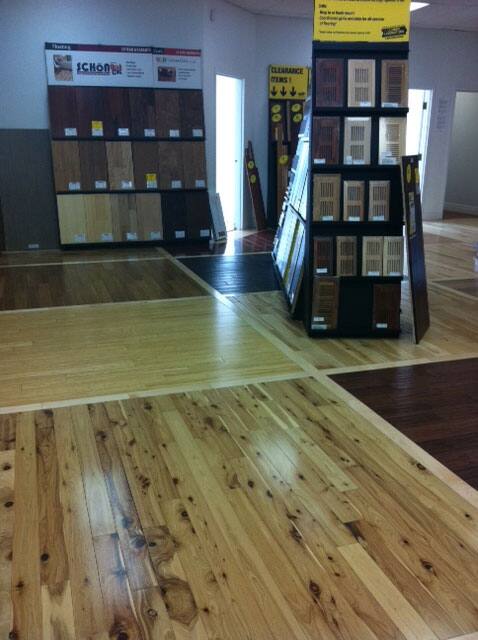 Throughout the store, various floors are laid in generously sized areas so you can really see what they look like ... very helpful for customers debating between various colours and finishes. The knowledgeable staff really took their time explaining the different varieties of woods, making it easier for us to narrow down our choices.
After much debate (there was so much to choose from!), we opted for this red oak hardwood. At $3.99 a square foot (compared to the retail value of $6.35 a square foot), the price was great and the wood the perfect warm shade my mom was looking for. Next up: Installation. Stay tuned!