Storage Solutions
10 stylish storage solutions
10 stylish storage solutions
Storage Solutions
10 stylish storage solutions
Beautiful and functional organizing solutions make tidying up easy. Contain the clutter and harmonize your home with the aid of these 10 storage and home organizing options.
Contemporary cottage style will add charm to any home. Rest yourself (or your things!) on this comfortable bench that doubles as a discreet storage option complete with adjustable shelves and sliding doors. $349 US, Crate & Barrel.
An antiqued bronze metal basket adds a bit of rustic charm to even the most contemporary of spaces. This versatile piece is a nice fit in any room and can hold anything from dishes to magazines. $24 US, Pottery Barn.
A timelessly designed storage organization solution, this tall solid birch cabinet offers adjustable interior shelves and both on-display and concealed storage options. $849 US, Restoration Hardware.
Keep flour and sugar in order with these lovely, simple earthenware containers. These stylish labeled canisters will help free up some much-needed space on your countertop and keep things looking neat and organized. $115 US, Williams-Sonoma.
This versatile storage and
entertainment
unit can be configured in many different ways. The cabinet doors can be conveniently customized, depending on whether you want to hide or display.
$69-$429 US, West Elm.
Pretty fabric bins are a unique storage and organizing solution. Handmade using a selection of coloured felts and vintage ruffles, these buckets are sturdy enough to hold a variety of home supplies and once filled, can do double-duty as decorative bookends. $24 US, etsy.com.
This powdercoated steel shelf is far sturdier than it may look. Keep reading material organized and out of the way with this minimalist but super-stylish storage solution. $160 US, supermarkethq.com.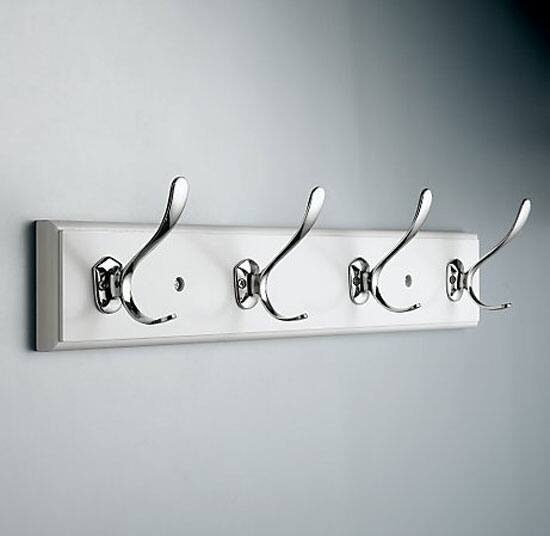 Classic enough to be featured in the front hall but functional enough to be concealed in a closet, this refined coat rack with four, polished nickel double hooks provides an ideal place to hang your hat ... or coat. $50 US, Restoration Hardware.
This classic, small wooden ottoman can be used as extra seating or as a convenient storage space for household items. The upholstered seat adds comfort and durability. $168 US, Umbra.
This contemporary storage option from Style Garage's Gus Modern collection is a perfect place to display pictures, small items, art and keepsakes. Two different widths and varying lengths allows the sleek rail to be customized for any space. $100-$150, Style Garage.