Interiors
6 great designer spaces
Interiors
6 great designer spaces
Gorgeous
interior designs
and renovations are incredible inspiration for our own homes. They showcase the style and personality of the homeowner, from the colour palette to the accessories. So why not go straight to the source of this inspiration? We've taken a look at a few of our favourite designers who have kindly brought us into their homes. Here are six fabulous designer spaces that we absoutely love.
Photography by Michael Graydon.
Tommy Smythe
's chic
closet
is a stylish statement on how to pair the old with the new to create a fabulous space. While Tommy went with new store-bought closet doors, he added
vintage
knobs for a sophisticated and personalized look.
Photography by Stacey Van Berkel-Haines.
Amanda Nisbet's Hamptons home
Canadian-born designer, Amanda Nisbet, uses a variety of pieces and textures in this home for a sophisticated and cozy feel. From the faux
bamboo
table, to the antique mirror, to the rustic woven
rug
, Amanda creates beautiful and welcoming living space.
Photography by Stacey Brandford.
Natalie Hodgins' bright and bold kitchen
Renovating
a small space is tough enough, but it's even more difficult when it's a kitchen. There is an immense need for
storage
and functionality, making any
kitchen design
a challenge. For Natalie's 10' x 10' space, every nook and cranny were optimized - and on a
budget
! Using IKEA kitchen cabinetry, she and her carpenter created a storage bench for seating. She also went with a light, neutral colour scheme to make the most of her small space, but used bright accessories to liven up the kitchen.
Photography by Virginia MacDonald.
Erin Feasby's loft design
The one thing Erin Feasby, designer for Feasby & Bleeks, wanted to avoid was creating a typical loft space. To achieve this she went with a chunky wood desk instead of sleek metal. This choice in materials actually "adds warmth and complements the brick," according to Erin.
Photography by Michael Graydon.
Peter Fallico's dining room makeover
One big change Peter made to the
dining room
was painting the wainscotting. Though the wood was in fine condition, painting it
white
brightened up the space and giving it an elegant updated look. Though natural wood is beautiful, sometimes painting it can actually increase the resale value of the
home
.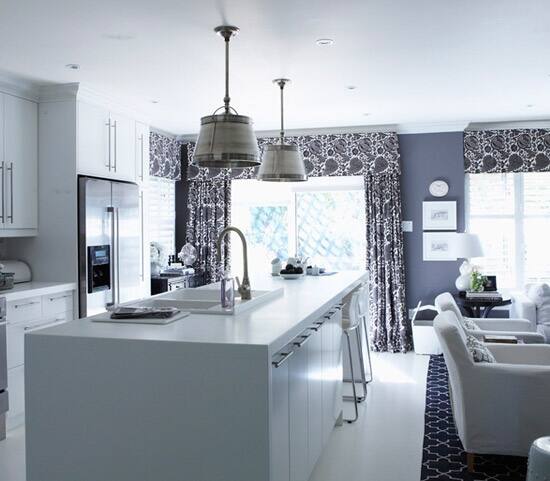 Photography by Michael Graydon.
Christine Hanlon's modern kitchen
In
designing her new kitchen
, Christine had trouble deciding between a
traditional style
, which she's always loved, and a more streamlined contemporary style. So she used both! The result is this gorgeous "modern bistro" as Christine calls it. The new
kitchen
marries sleek modern functionality with classic, vintage accents.