Interiors
Blogger house tour: Favourite rooms
Blogger house tour: Favourite rooms
Interiors
Blogger house tour: Favourite rooms
If you're anything like us, you know exactly how easy it is to get lost in the design blog world, clicking through post after post of beautiful spaces and inspiring
home decor
ideas. We've saved you the trouble. Check out the homes of these five decorating and design bloggers as they share details about their favourite rooms in their home and let us in on their styling secrets.
Vintage living room
Home of Karen Bertelson of
The Art of Doing Stuff
, Hamilton, ON.
(Photography by Donna Griffith)
What do you use this room for?
It's the
living room
– the room in which we live. Unless you're me, in which case you live in the kitchen and on occasion visit the living room.
What was your inspiration for the room?
This is the room that started the Great House Purge of 2008. I was sick of my house. The kind of sick where every night you move all of your furniture around in hopes that changing its placement by four feet will make you love it.
I moved furniture every night for about two years. We bought the couch, which led to me selling/giving away/donating every single thing in my house. I got rid of it all (aside from a select few antiques and sentimental items), painted my whole house
all-white
and started from scratch.
What's your fave piece in the room?
A brass, tri-leg lamp from Crate and Barrel that's sitting on an end table (not shown) – I'm pretty sure I'm going to love it forever. Though that sentiment didn't hold true for any of my 1980s haircuts …
Biggest save?
Repurposing the clear glass lamps on the sofa table. They were actually painted red and I wanted clear-based ones so I just stripped them. Also, the huge gold mirror over the couch was $7 at a garage sale, the tree stump end table I made for about $20 and you can't see it in the picture, but I have an original gold, Florentine glass-top table I got at a garage sale for $3.
Biggest splurge?
The Crate & Barrel lamp.
What are you looking to add next?
This is kind of embarrassing, but it's a flat-screen television. We still have an old fashioned, 1,500 pound (approximately) TV. My boyfriend is the only man on this planet who couldn't care less about having a flat screen television. I, on the other hand, am dying for one.
Bright and cheery studio
Home of Katie Bower of
Bower Power Blog
, Loganville, Georgia.
What do you use this room for?
It's the studio I use for my blog and photography work.
What was your inspiration for the room?
I was really inspired to use what I already had furniture-wise and to create a
feminine home office
and bright space. My main goal was to make it look like the Kate Spade website threw up all over it!
What's your fave piece in the room?
I absolutely love the Goodwill desk chair redone with new upholstery and a fun contrasting colour. It was such a cheap
home makeover
, but the impact it makes on the room with its ornate lines is beautiful.
Biggest save?
Reusing old furniture and creating my own watercolour art. A piece that large would have been way out of the budget, so I decided to DIY it with watercolour pencils.
Biggest splurge?
We bought a paint sprayer to change the molding, ceiling and trim with bright, white paint. It cost us a pretty penny, but we also were able to use it to coat the furniture to match.
What are you looking to add next?
Curtains
! I would love to add some fun and simple fixed roman shades. The windows are begging for a little style.
Where did you get most of the pieces for the room
?
Every single piece was something we already owned – thrifted, hand-me-downs and inexpensive. We just painted it all and now it ties the room together.
Serene modern nursery
Home of Emma Reddington of
The Marion House Book
, Toronto.
What was your inspiration for the room?
I wanted the
nursery decor
to be a calm and somewhat whimsical space without being too childish or cutesy. Once I found the Inke Heiland vintage wallpaper tree, all the other pieces fell into place. I knew it would be the focal point, so I let it lead the direction of the room.
What's your fave piece in the room?
Well, you can't see them in this photo, but it would have to be the vintage dresses my mum and friends have passed along to me. I have them hanging on hooks around the room and I love dressing up my daughter Orla in them. I'm a firm believer in actually using the beautiful, vintage objects we own and not just displaying them.
Biggest save?
The Eames rocker. I bought it off of a friend of mine who also happens to be an architect. He got a great deal on the piece but was disappointed with the colour when he got it home. He asked me if I wanted to buy it off of him and I jumped at the chance. I paid a fraction of the actual retail price.
Biggest splurge?
Probably the vintage wallpaper tree, though I wasn't afraid to spend the money because I knew it would be the outstanding feature in the room. With something as dramatic as this, you don't need to add a lot of other artwork or
home decor accessories
.
What are you looking to add next?
Nothing, really – the room is pretty complete. However, I do have a weakness for linens, especially baby blankets, so one or two of those might make their way in!

Where did you get most of the pieces for the room?
The pieces are from all over the place. The crib and change table are from Nurseryworks. The rug is from Dash & Albert. The baskets are from West Elm. The pendant light is by Tord Boontje. The linens are from Virginia Johnson, Pottery Barn and John Lewis. The rattan pouf is from Serena and Lily.
Graphic modern living room
Home of Jennifer Flores of
Rambling Renovators
, Toronto.

What do you use this room for?
As our
living room
, it's where we spend most of our time as a family, watching TV, reading books, and having the occasional tea party with our three-year-old.

What was the inspiration for the room?
It actually came from the wallpaper in the adjacent
dining room
. The dining room is bold and colourful with a large-scale floral yellow wallpaper. I knew I wanted to bring some of that strong pattern and the yellows into the living room as well so that the two rooms would flow together. The yellow Chloe chairs from Crate and Barrel really set the tone for the space and I've layered other patterns in the draperies, toss pillows and
area rug
.
What's your fave piece in the room?
The oversized photograph of my daughter over the dresser is my favourite piece in the room. It was taken on vacation in Mexico and I think it really captures that special moment, when she sees the vastness of the ocean for the first time and realizes how big the world is.
Biggest save?
The buffet and hutch were a huge save! We purchased them on Kijiji for $80 and transformed them with paint (Martha Stewart Schoolhouse Slate) and new hardware from Lee Valley Tools.
Biggest splurge?
The biggest splurge was the floor to ceiling Oriental White marble tiling on the fireplace (not shown in photo). We wanted a mix of modern and traditional and when we couldn't find a tile to satisfy our tastes, we had to get them custom cut.

Where did you get most of the items in the room?
Hutch & dresser,
Kijiji
; Dresser,
Furnishings On Consignment
; Coffee table,
Urban Barn
; Pillows,
HomeSense
and
West Elm
; Mirror,
Pier 1
; Yellow chairs,
Crate and Barrel
; Drapery,
Tonic Living
.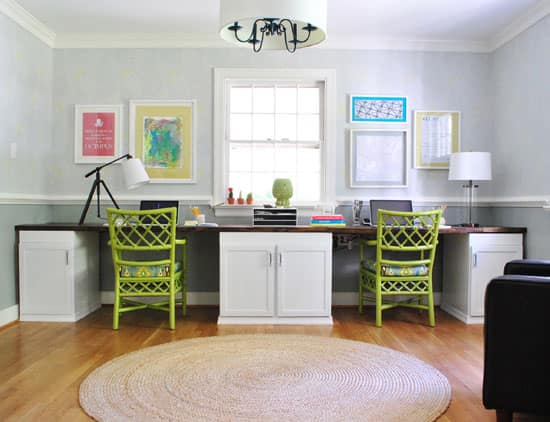 His 'n' hers home office
Home of Sherry & John Petersik of
Young House Love
, Richmond, Virginia.
What do you use this room for?
This is our
home office
. My husband and I run our little DIY blog,
Young House Love
, from in here, usually with our toddler dancing/playing/running around on the rug.
What was your inspiration for the room?
We're having more fun with bold pops of colour thanks to the birth of our daughter two years ago. Neutrals just aren't as much fun as something vibrant and personal that makes you smile.
What's your fave piece in the room?
The $35 secondhand chairs that we rescued and revived ourselves with new upholstery and some bold green paint.

Biggest save?
We made the 13-foot-long double desk with $1 cabinets that we found at a thrift store and topped them with lumber from the home improvement store. The entire project cost us under $125!
Biggest splurge?
Pretty much everything in the room was done on a budget, from the collection of inexpensive prints and homemade art that we framed to the lamps that we found at HomeGoods (the US equivalent of HomeSense). We even DIYed the chandelier!

What are you looking to add next?
We might bring in some window treatments and
window coverings
next, or a giant basket to control the toddler clutter that always seems to explode everywhere!
Where did you get most of the pieces for the room?
Many items came from thrift stores, while the frames are from IKEA, the lights are from HomeGoods, and the rug is from Joss & Main.
If you love these bloggers' style, check out our bloggers' best home decor tips and tricks.