Interiors
Home office decor: Dark and dramatic study
Interiors
Home office decor: Dark and dramatic study
A masculine study designed in a stylish dark and dramatic tone.
Living in a house full of neutrals, this design-inclined homeowner craved something more. So when her husband, a physician, expressed the need for a more efficient and stylish workspace, she knew exactly what to do. Channelling her sharp decorating skills and flair for the dramatic, she created a masculine home office well suited to the person she knows best.

Before the renovation

Wallpaper
The avian pattern on the masculine Cole & Son wallpaper adds interest to the walls without overwhelming the small space. The paper's cool blue tones influenced the dark and refined design scheme.

Granite slab
Sleek and sophisticated, this honed granite slab was fashioned into a desktop by Artistic Stone Design through IKEA. Its durability makes it a great choice for the busy physician's office, which sees a lot of late-night paperwork.
Display shelf
When space is limited, build up! The large open shelf was custom built from an IKEA Perfekt Ramsjö cover panel and proudly showcases antique urns and a basket without taking up prime real estate on the desk below.
Desk
IKEA's Akurum/Ramsjö cabinet makes the perfect base for the desk: Its lean design leaves ample leg room, and its deep drawers provide plenty of storage. The homeowner customized the piece with handsome Rejuvenation drawer pulls for an extra dose of panache.

Radiator covers
These beautifully intricate radiator covers were vintage finds that happened to fit perfectly in the Akurum/Ramsjö IKEA cabinetry. Not only do they give the piece a retro look, but they also let remote signals pass through, allowing electronics to be hidden away behind the ornate brass doors.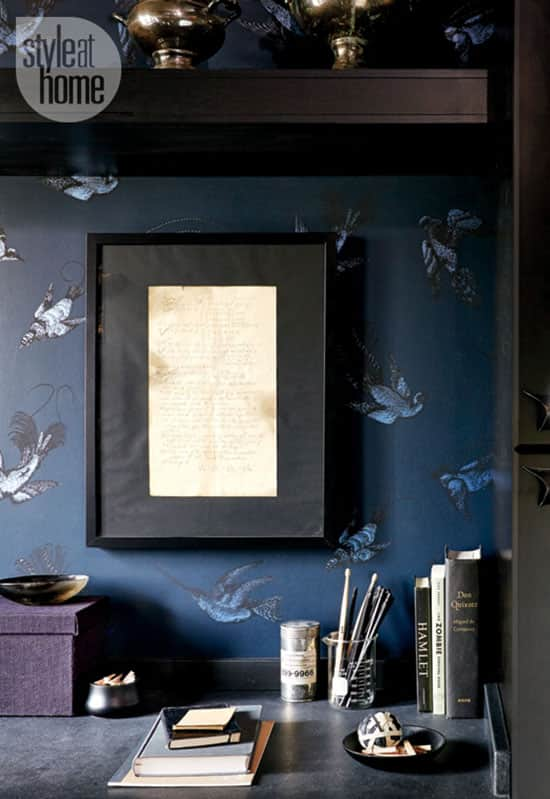 Old documents and letters
The age-worn documents and letters that decorate the walls were actually found tucked away behind the bookshelf when renovations began. The homeowners love how they preserve a part of the circa-1930s home's history.

Prized pieces
The top of the bookshelf now pays tribute to the homeowner's husband, displaying choice prized pieces, such as his literary favourites, a vintage camera and a Darth Vader mask.

Before

Bookshelf
The bookshelf was original to the house, but its shallow shelves rendered it inefficient. The homeowner had the piece rebuilt to have more depth, then painted it in a rich shade of blue, allowing the unit to act as a standout piece for storage and display.

Large boxes
Large boxes with name tags serve as stylish storage solutions to keep each family member's documents or schoolwork organized and concealed.

Rug
The faux-snakeskin rug from Chilewich speaks to the blues throughout the room and imbues the rich oak hardwood floors with warmth and texture.