House Tours
Interior: Beachfront bungalow
House Tours
Interior: Beachfront bungalow
A roughshod beachfront cottage is beautifully transformed into a cozy, year-round family home.
As far as cottage rejects go, this one could have taken top prize. The beachfront bungalow on Georgian Bay's beatific Victoria Harbour in Ontario was once dominated by smelly high-pile carpet in homely pea green with furnishings and drapery to match. Raw plywood was tacked onto the walls and the too-low ceilings and the floors were extremely wonky.

But the derelict digs, which had languished on the market for more than a year, didn't scare off Lindsay Schultz, a glass-is-half-full-type kitchen designer who heads her own eponymous kitchen and cabinetry business in town. "The house was sinking into the abyss, but I saw it as a terrific opportunity to get my hands dirty," says Lindsay. So together with her husband, Aaron Potter, the owner of a computer-based machining company, Lindsay made an offer on the two-bedroom, 1,100-square-foot cottage. And, because they were planning to live there year-round, the couple began the big reno project as soon as they made the purchase, with Lindsay acting as general contractor.
In lieu of the traditional kitchen plus dining room, the couple opted for a large, open and airy kitchen with an eat-in area. When more company comes over than the island/ dining table can seat, the sunny built-in bench becomes the kids' "noshing nook" with the addition of TV tray tables.
Lindsay, who designs kitchens for a living, had a lot of fun fashioning this charismatic cooking zone, where grey base cabinets and white uppers are spirited modern choices against an arresting textured backsplash that acts as a feature wall.
Stylish chalkboard
A kitchen chalkboard on the pantry door offers a place for reminders. The louvred cabinet doors below the sink have a beach house feel "and make the sink look like a piece of furniture we had slipped in, adding character," Lindsay explains.
Turquoise dishware offers a fresh cottage vibe but can be easily switched out if Lindsay, a self-confessed colour-phobe, gets tired of the aqua blue accent.
Lively living room
Quintessentially coastal, a mix of natural woods and seaside accents makes this lively living room inviting. The fresh look was pulled together inexpensively, with a sofa and bookcases from IKEA, armchairs from Habitat for Humanity ReStore that were refinished and a ladder found at an antiques store.
Rustic fireplace
"I love everything about the stone fireplace, as rustic and imperfect as it is," says Lindsay, noting that framing it out in white made it look tidy;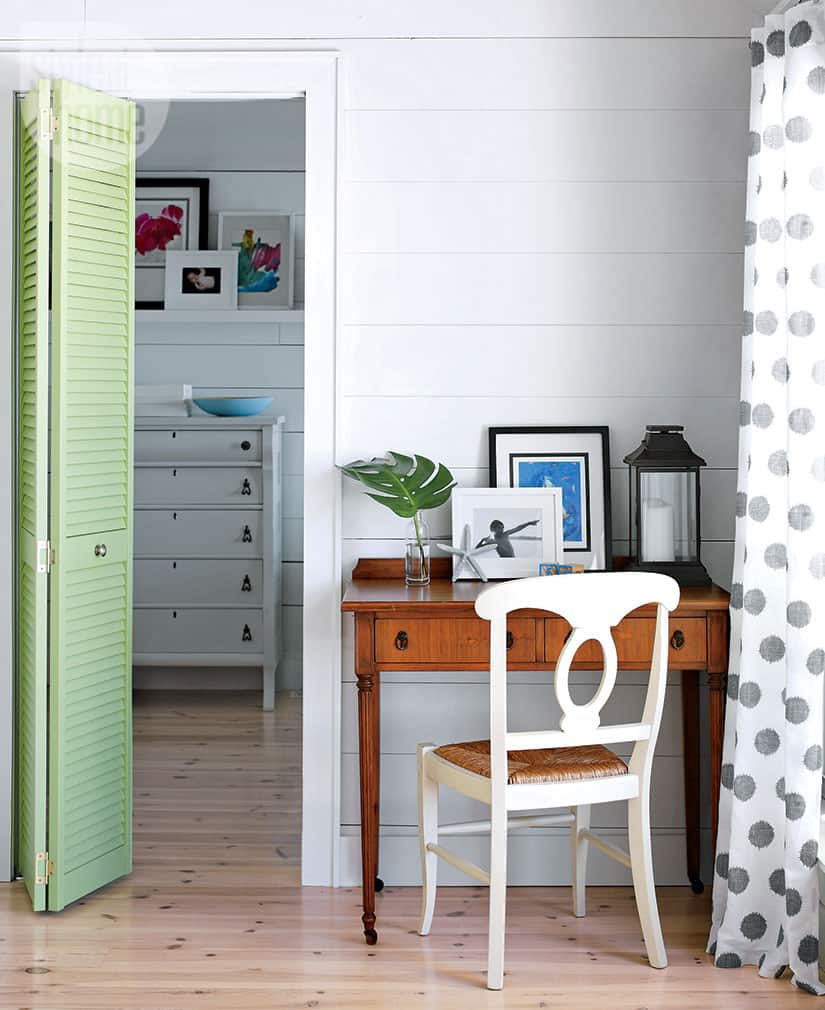 Throughout the home are winks of whimsy, like this spring green louvred bifold door that leads into the master bedroom, as well as the playful modern polka-dot drapery. The dainty-footed desk – an elegant heirloom from Lindsay's side of the family – stands out against the white walls.
Cash simply loves the outdoor cottage life (what kid wouldn't?); Marshall's cool suspended bed was devised on the fly after the couple learned they were expecting a second child mid-reno – "It's made out of scraps of two-by-fours and raw, rough-hewn pieces of pine and plywood, with no pretty finishes, and hung with heavy rope, but when we painted it white, the whole look came together," says Lindsay.