Interiors
Interior: Cape Cod chic
Interiors
Interior: Cape Cod chic
Stay or go? Reno or sell? What homeowner hasn't faced that dilemma? After years of trying to figure out how to make their three-storey house work for them, Alain Doom and Charles "Chip" Hamann of Ottawa decided to sell. "We were unhappy with the layout – it had been frustrating us for years," says Chip. "We actually had a deposit down on another house when we met our contractor, Lindsay Nicol." Lindsay recommended designer Irene Langlois to help renovate the house the couple was about to buy, but when they met Irene, plans changed. "With such a first-class team," says Chip, "we decided to stay and make it work." "It was really about maximizing living space," says Irene.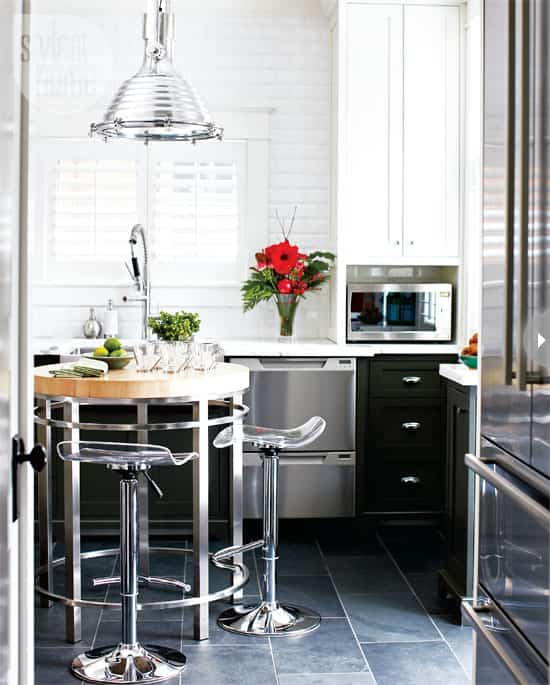 Kitchen interior
The beautifully updated kitchen is now perfect for hosting memorable dinner parties and entertaining friends and family.
Cooking niche
Irene doesn't miss a trick, from a niche for cooking oils above the cooktop to a pantry cupboard for cans squeezed into unused space by the stairs. She also designed the restaurant-style hanging system to suit Alain's needs. The induction cooktop is one of the couple's favourite improvements to the
kitchen design
.
Living room
Cowhide stools are multifunctional: they're a stylish spot to put up your feet at the end of a long day and extra seating at parties. Lots of living actually happens in this living room, which also features the couple's TV. The comfy sink-into
sofa
is perfect for lounging but is easily dressed up with silk
toss
cushions
for events.
Dining room
Using marble tiles leftover from the ensuite
bathroom renovation
, Irene fashioned a new surround for the
fireplace
. "It would have cost a fortune to do a custom slab, but with strategic cutting of 12" by 24" tiles, we got a stylish keystone pattern," she says. Chip and Alain found the super-sexy vintage Charles Hollis Jones chairs online. The chairs' translucent Lucite legs keep the space visually open and add serious style.
Home office
The 1920s pine secretary, a showpiece in the
living room
, was first owned by Chip's grandmother and later passed down to Chip from his uncle. "I've always loved it, and it reminds me of happy childhood times and the keen sense of style my grandmother and uncle possessed," says Chip. The upper cabinets house a few small keepsakes, favourite
cookbooks
, and two stunning turquoise "vases," which were originally lamps.
Party essentials
A spread of bite-sized
appetizers
on uniform white plates makes for an impressive presentation. Small nibbles are also easier to manage in a party setting, especially when mingling and eating while standing.
Master bedroom
A hint of haberdashery in the pinstripe fabric on the
upholstered bed
brings pattern and panache to the new master retreat – the couple's six-year-old Ragdoll cat (the real master) approves. Mirrored nightstands and swanky
table lamps
add glamour.
Dressing room
A fully customized dressing room is now adjoined to the master bedroom. The upholstered
ottoman
stores off-season linens and gives the space the look of an upscale men's shop. Dark charcoal bevelled-mirror doors on the built-ins hark back to the ones in the kitchen and in Alain's first-floor
home office
– reinforcing the visual flow Irene strives for.
Decor accents
Vibrant green stems lend a fresh, colourful note to the overall neutral
colour palette
of the room. Chip creates interesting
vignettes
with cookbooks and inexpensive finds.
Candlelight
Candlelight sets the right mood for an intimate gathering and is one of the
entertaining basics
. Opposite Ottawa is renowned for its long, snowy winters, but homeowner Chip Hamann, a passionate gardener, loves to brighten up the season with homemade
floral arrangements
.