Interiors
Interior: Colour your world
Interior: Colour your world
Interiors
Interior: Colour your world
Boredom may not be the most auspicious of reasons to change your decor, but for vivacious designer Lisa Sterio, many years of living with neutrals had somehow made things seem, well, predictable. So much so that one day she stepped into her midtown Toronto apartment, looked around and thought, "I cannot take one more moment of beige!"
"On impulse, I brought home all this $10-a-yard chartreuse fabric and some new curtain rods," says Lisa. "The minute I hung the drapes on the windows, the room looked alive." Suddenly the traditional living room, with its white fireplace and white Ultrasuede furnishings, was injected with a bright, lively personality. "It was fun without being over the top," says Lisa. "Instead of looking like just another living room, it had instantly become
my
living room."
The
bathroom
remained white, but a parade of fresh flowers in ever-changing hues ensures that the word boring never comes to Lisa's mind again. "That said, I still love classic style," she says. "All of my furnishings have classic lines, and because of that timeless appeal, I haven't purchased new pieces in years. This is the same furniture I had when I lived in a multilevel house with lots of small rooms. Yet it looks perfectly at home here. To me, it's proof positive that classic design is smart design."
Living room
Lisa's venture into colour began with chartreuse drapes. The pink damask and yellowy green velvet cushions came next. A fuchsia lampshade pops in front of one of the many large windows in the living room. The painting over the fireplace ties all the colours together.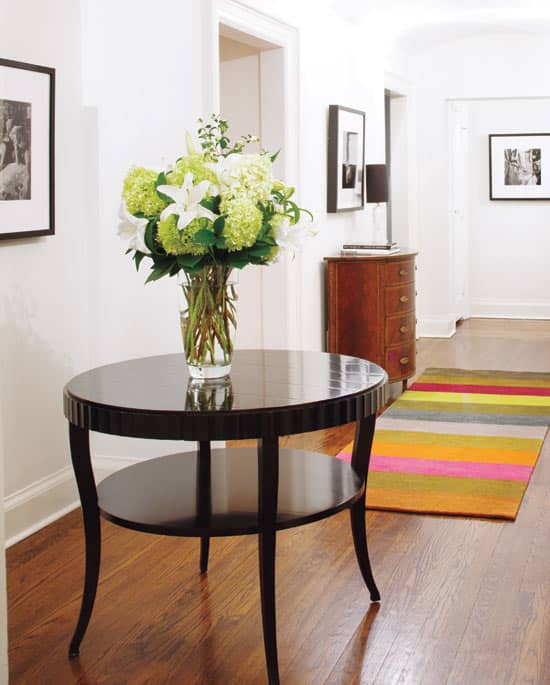 Grand entrance
To emphasize the size of the apartment's large
entryway
, Lisa placed a round table, whose curves speak to the arched ceiling, at its centre. Original artwork is given full attention thanks to the backdrop of white walls. "I think of this area as a gallery," says Lisa.
Dining room
The classic dining room furniture gets a jewel-tone boost with the addition of a rich peacock blue rug. The colour is echoed in the modern painting.
Office nook
Soft and inviting, the bedroom is divided into three zones: a sleeping area, a reading area and an office. Shades of mauve, grey and pink are mixed for a room that restores designer Lisa Sterio's creativity.
Bedroom
When Lisa moved in, everything in the bedroom was robin's egg blue. Her soft touch and deft handling has brought the space into the light.
Bathroom
The bathroom features a classic pedestal sink where there was once a long vanity. An inexpensive storage cabinet, which Lisa cleverly topped with a marble slab, keeps toiletries and towels close at hand.