Interiors
Interior: Comfy guest cottage
Interior: Comfy guest cottage
Interiors
Interior: Comfy guest cottage
Nearly six years' worth of kids, puppies, teenagers, friends and relatives have passed through the doors of this homey guest cottage in Surrey, B.C., owned by Linda Edworthy, a teacher, and her husband, Sam, a dentist. Backing onto a quiet lane where roses climb the fences and kids weave happily on bicycles, the cottage features an
interior
that's as inviting as its surroundings. Linda credits decorator Colleen Sawatsky, a friend and owner of Vintage Home in Abbotsford, B.C., for its appeal. Colleen started by choosing
paints
in breezy hues of blue and aqua to refresh flea market and hand-me-down furniture, accessories and even floors. Adds Linda, "By also using dishes and fabrics from the past, Colleen brought the feeling of a simpler time to the cottage."

Budget-friendly decorating tips
1
Beautiful fabric stretched over a frame creates eye-catching art.
2
Cushion covers stitched from vintage tablecloths jazz up a classic white slipcovered
sofa
.
3
Paint in crisp white and soft blue freshens up furnishings and unites the disparate shapes.
4
A vintage dresser with deep drawers stores everything from school supplies to a laptop. Glass knobs pretty it up effortlessly.
5
Painted sky blue, an ordinary staircase gets a lift. The
coffee table
is actually a bench, which doubles as extra seating in a pinch.
6
Drapery panels fashioned from time-worn table linens look fresh with a playful grahic tablecloth.
7
Open shelves keep dishes within easy reach. They're a great way to display your favourites.
8
A simple bench multitasks as a
storage
shelf, luggage rack and seating in the bedroom.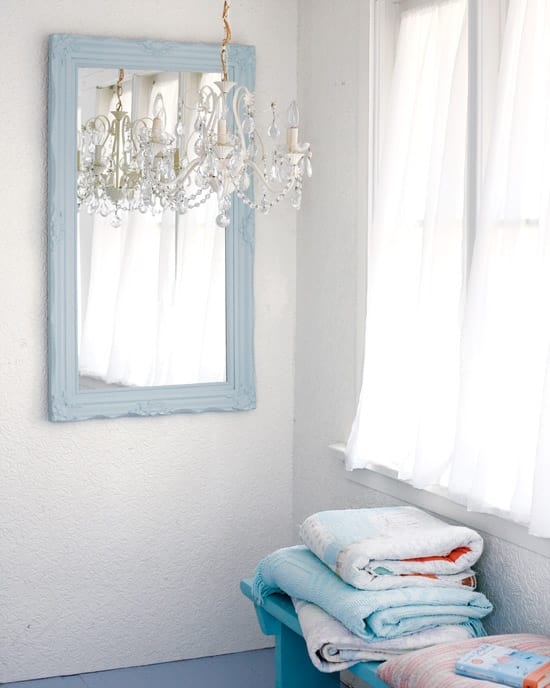 9
A sparkling
chandelier
, white sheers and a painted blue floor create a dreamy feel in the bedroom.
10
A duvet cover sewn from vintage-inspired sheets adds a pretty touch to a painted wrought-iron bed.