Interiors
Interior: Country casual home
Interior: Country casual home
Interiors
Interior: Country casual home
"The kitchen is a big deal to me," says homeowner Sano Goacher. "It's the place where everything happens." That's why when she and her husband, Miles, moved into this Oshawa, Ont., home six years ago, expanding and updating the awkward, diminutive kitchen was their first priority – until the project took on a life of its own.
Having moved from just across the street, the couple loved this house's cozy layout, flat lot and ravine setting (ideal for their dream
backyard
). And, no strangers to renovating – they had already revamped their two previous properties – they were all set to update the main floor and create an inviting open-concept kitchen that would flow easily to the outdoors and accommodate casual, comfortable family life. "We never purchased a cottage because we decided we didn't want the drive every weekend," says Sano, "so this is basically our home/cottage – that's how we looked at it."
But issues surfaced when they began ripping out drywall and tearing down walls: The house was infested with mice, and improperly installed windows had caused structural problems. So the couple – Sano is a registered nurse and Miles is a portfolio manager and investment adviser – decided to gut the whole place. "Initially, we were going to do it in stages," says Sano, "but we ended up saying 'Let's bite the bullet and do it all.' We just pushed upstairs and kept going." A
home renovation
that took eight months resulted in the 2,600-square-foot home's luxurious
cottage-style
aesthetic.

Homeowners Sano and Miles
In the "fireplace room," Sano and her husband, Miles, sit with their 10-year-old miniature schnauzer, Katie.

Magnetic chalkboard door
In the kitchen, a shallow cupboard, built to hide an unsightly heating vent, provides an ideal place to store spices and teas. Its magnetic
chalkboard door
is both practical and playful. "The kids love it because they can draw on it and stick all their stuff up there," says homeowner Sano Goacher.

Gas range
A six-burner
gas range
accommodates big dinners for the homeowners, who love to cook and entertain. The ceramic subway tile
backsplash
is a classic feature, and hanging a collection of stainless steel and copper pots and pans adds a decorative touch.
"I've always gravitated toward simplicity, and I love linen and shades of white and just keeping everything very creamy."
Clean and cozy kitchen design
Traditional elements like the recessed-panel cabinetry, oil-rubbed bronze hardware and wall-mounted pot rack are juxtaposed with a commercial-style range, an undermount sink and sleek Corian
kitchen countertops
to create a clean, cozy aesthetic in the kitchen. "And I put drawers everywhere," says Sano. "I like the look of banks of drawers, and unlike cupboard doors, they're so easy to access."

Dining area
Built-in glass-fronted cabinetry defines the kitchen's dining area, displays Sano's collection of
white dishes
and holds a coffee station. "I have a thing for white dishes," says Sano, "and I think displaying them stacked in layers of shades creates more interest."

Fresh table setting
Small bouquets of fresh tulips instantly brighten up this dining table's
table setting.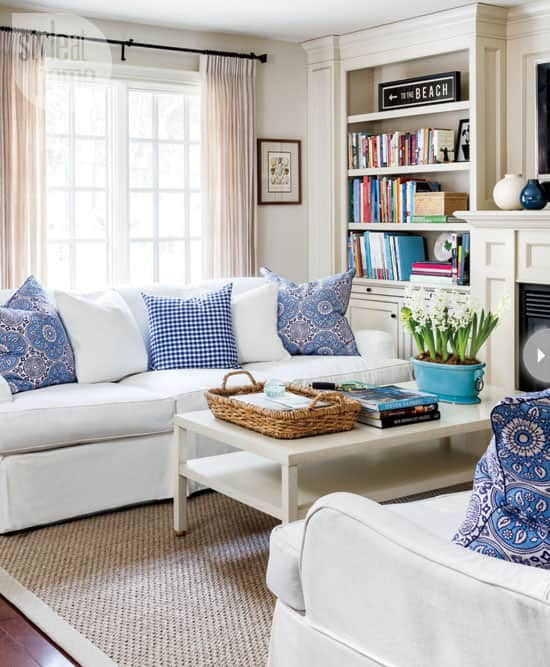 Seating area
At the other end of the kitchen, a seating area with comfy slipcovered William Birch-style sofas provides a spot to lounge. The blue patterned
toss cushions
and textural elements like the sisal rug and
wicker basket
add interest in the
neutral space
.

Practical and welcoming entryway
The understated front hall sets the tone for the house's warm, casual look, and pieces like the table exemplify the homeowners' penchant for practicality. "It's actually a fold-out table that I can put at the end of my
dining table
when I need to seat more people," says Sano. "I like to have pieces that can do double duty."

Small office area
A corner of an upstairs bedroom is used as a small home office area, which boasts the same comfortable cottage-style look as the rest of the house. The wicker chair and plaid rug are casual pieces that lend interest and warmth.

Master bedroom
In the
master bedroom
, the cozy linen
headboard
,
stunning sconces
and luxurious Hästens bed, with its signature plaid pattern, complement the homeowners' easy, unfussy style. The dark wood of the dresser and nightstands adds a dose of richness.