Interiors
Interior: Debbie Travis's rustic Christmas charm
Interior: Debbie Travis's rustic Christmas charm
Interiors
Interior: Debbie Travis's rustic Christmas charm
Debbie Travis revels in her family Christmas traditions. Whether it's stuffing stockings with the requisite socks and toothbrushes, lighting the plum pudding after a big turkey dinner ("I usually use a whole bottle of brandy to get the thing lit!" she says) or organizing the annual open house on Boxing Day (a custom inspired by her childhood growing up in England), these tried-and-true rituals are always something to look forward to and enjoy. But for Canada's decorating doyenne, who has done everything from producing and hosting several popular makeover series to creating her own product line, it makes perfect sense that adhering to tradition doesn't necessarily apply to her
Christmas decorating
.
Home for the holidays
"I really like to change it up," says Debbie. When it comes to bedecking her Montreal home for the holidays, she gives the stately 1880s house she shares with her husband, Hans Rosenstein, and two grown children, Josh and Max, a new look each year. This holiday season, Debbie veered from her usual eclectic approach and incorporated a more streamlined aesthetic, using decorations in the same silver, white and green palette throughout. "I like to have fun with my decorating, but this year I went a bit more posh," she says. Enhancing this winter wonderland of a colour scheme and lending a bit of
rustic charm
are ornaments that nod to nature. Deer, birds, snowflakes, pine cones and antlers ("Anything you'd see on a woodland walk," says Debbie) can be spotted sitting on the mantel, tied to garlands and hanging from the tree. While the look is consistent everywhere, Debbie still kept in mind the style and function of each room when incorporating her
Christmas decor
.

The Christmas tree
The tree in the living room is adorned with white and silver Christmas decorations – many nature inspired – which create a look that's both sophisticated and fun. Supplanting the ubiquitous angel or star, the tree's elegant topper is made of a mix of silver and white Christmas balls, ribbon and feathery branches all tied together.

Green wreath
The large frosted green
wreath
hung on the living room's secretaire serves as a festive focal point.

Decorated staircase
The staircase in the front hall, which features a Florentine fresco created 12 years ago for an episode of Debbie Travis' Painted House, is embellished with an artificial pre-lit garland and
pretty Christmas ornaments
, making decorating super easy during the busy holiday season.

Fireplace mantel decorations
Placed on the
fireplace mantel
, a sculptural wooden deer is an intriguing rustic hit that balances the opulent look of the cherub sconces and gilt mirror. Dressed with other decorations, such as pillar
holiday candles
, an artificial garland and quilted stockings, the mantel display exudes holiday warmth.
Living room
The living room exemplifies the snowy, sophisticated colour scheme – white and silver with hits of green – used throughout for the
Christmas decorations
. The bay window provides a perfect spot to place the tree.

Pretty crystal decanters
For homeowner
Debbie Travis
, who likes to serve Prosecco and a good red wine to her guests, Christmas provides the perfect opportunity to use her pretty crystal decanters. "When else do we really bother to decant stuff?" she says.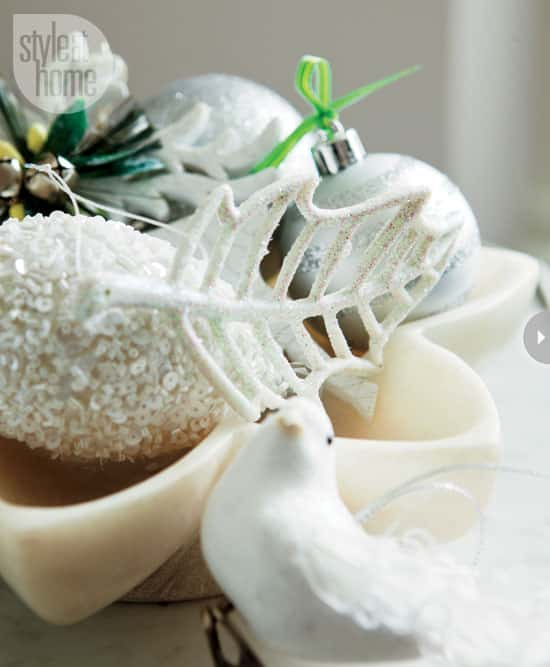 Decorative displays
A petal-shaped marble dish, a gift from a friend in Indonesia, holds a group of
beautiful Christmas ornaments
on a side table in the living room ("It's nice at Christmas to use those beautiful containers you may have around the house to put ornaments in," she says).

Queen Anne-style secretaire
The
living room
's antique Queen Anne-style secretaire – a piece Debbie inherited from her mother – holds many of Debbie's heirloom pieces and acts as display space for a holiday
living room vignette
.

Place settings
"Because there are so many of us at
Christmas dinner
, I like doing
place settings
and I usually try to use ornaments," says Debbie, referring to this birdhouse ornament placed on top of a linen napkin and paired with a pine cone.
Dining room table
With a linen tablecloth from Italy and simple all-white dishware, the dining room table is set for a relaxed Boxing Day
buffet-style
meal.

Vases and condiment shakers
Mercury glass vases and a pair of Edwardian
salt and pepper
shakers add a bit of sophisticated sparkle to the
dining table
.