Interiors
Interior design: Turquoise contemporary condo
Interior design: Turquoise contemporary condo
Interiors
Interior design: Turquoise contemporary condo
Given its crispness, Stacey Cohen's condo is remarkably cozy: One longs to plop down on the plump, velvety sectional for a snooze. And this urge isn't by accident: "One of my goals was to make the condo comfy, homey and modern but not minimalistic," says the fresh-faced 29-year-old designer of her enviably perfect pad in downtown Toronto, which was purchased off a blueprint in 2006.
Stacey, who runs the flourishing Interiors by Stacey Cohen, moved into her home last June and began transforming the 965-square-foot condo from an empty shell into a delightfully youthful space chock full of personality. Her vision for the condo was to stick to a cohesive, neutral palette and add pops of colour – her poison is turquoise – through
home decor accessories
. Doing so would allow for an easy switch-up, since all of the larger pieces are neutral.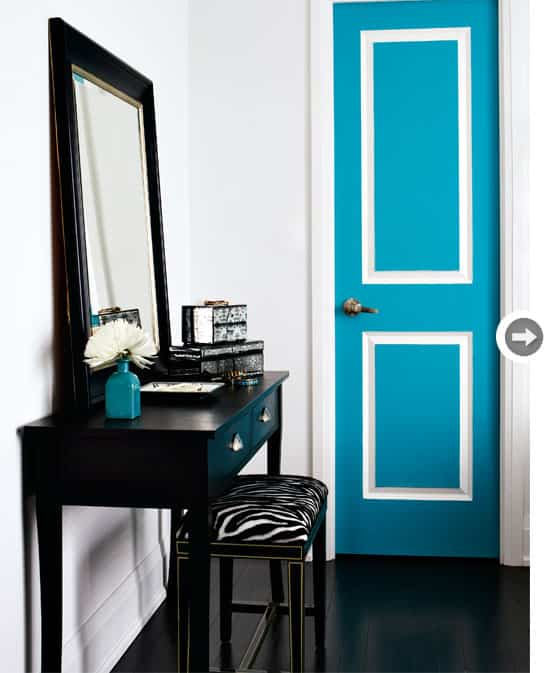 Welcoming entryway
Homeowner and designer Stacey Cohen treated the closet door to a dose of vibrant
turquoise
in an eggshell finish. To create contrast, its grooves were coated in a semi-gloss white: "It's a nice way to make a statement and introduce colour in a less overbearing way," she says.
Living room
Even the crushed velvet
sofa style
she's sitting on has bling – silver nailhead detailing added by Stacey outlines its base, while, above it, a dazzling light fixture emphasizes the condo's 10-foot ceilings. "The sofa's size and placement make the space feel larger," says Stacey. "I entertain all the time and there are never any traffic issues."
Home office
The office nook came together with glossy white floating and
open shelves
. In the hallway, New York City subway-sign artwork adds a graphic punch and emphasizes the high ceilings.
The designer
Stacey sits in the
small space living room
of her downtown Toronto condo. Behind her are photos of Paris taken by her father and framed for her as a gift. She tweaked several pieces throughout the condo to clever effect: the media unit in the
living room
(she swapped forget-table knobs for crystal ones and forwent the feet in favour of a wall-mounted design), the desk in her
home office
(improved with a mirror top), the wall in the bedroom (stencilled to create a headboard effect) and the dining table (now grand thanks to a marble top).
Organized kitchen
Stacey recommends white or solid-coloured pieces when displaying dishware on open shelving or
styling open shelves
, since a mishmash of hues would be jarring.
Breakfast nook
For relaxed meals, one of the nicest spots in the condo is the light-filled
breakfast or dining nook off the
kitchen
. An arc floor lamp lends drama to the pristine setting.
Colourful decor accents
Flowers are an easy way to layer in another colour without the commitment. Stacey amplified the condo's high ceilings with floating
open shelves
that go all the way up.
Bedroom
To create this
paint project headboard
, Stacey used a coat of charcoal paint and a stencil. It introduces a note of sophistication into the
dream master bedroom
.