Interiors
Interior: Scandinavian Christmas charm
cccc Image by: Linnea Press
Interiors
Interior: Scandinavian Christmas charm
Handmade decorations, antiques and sweet treats make for a simple and nostalgic season in this charming winter wonderland.
Just looking at this charming 1920s country style house, one can't help but think of Christmas. Its dark red exterior is lightly dusted with snow, just like icing sugar sprinkled over a red velvet cake. Come in from the cold and you'll be greeted by an enchanting winter wonderland inspired by holidays past. It's evident that this homeowner likes to celebrate the season in the traditional way of her native Scandinavia, complete with homemade touches – including a hand-sewn Christmas elf and a magnificent gingerbread house with glittering white frosting and splendid windows – evergreen trees and candlelight. In other words, all is calm here, all is bright.


Hundred-year-old house
The dark red patina of this hundred-year-old country house stands out in the stark, wintry landscape.

Winter-long decor
A charming gingerbread house, complete with windows made of sheets of gelatin, can stay on display all through the winter.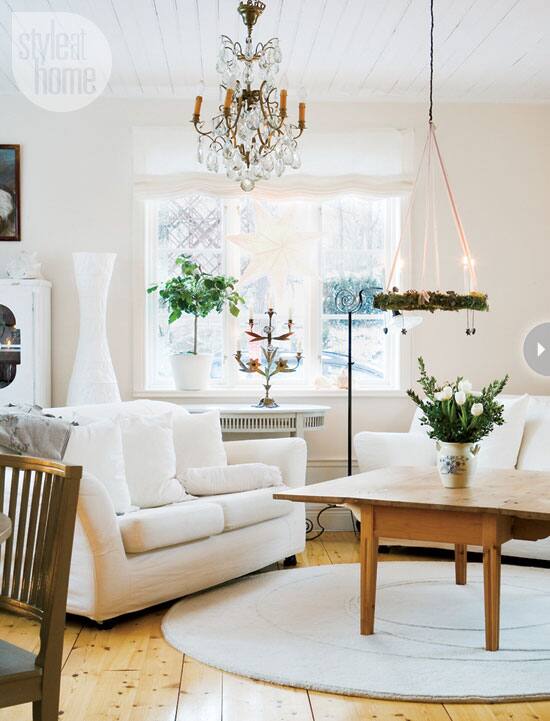 Simple living room
The clean and simple living room is cozily furnished in a warm white-on-white palette with hits of natural greenery.

Snow-covered arrangement
Spring bulbs peek through a snow-covered arrangement that's topped with frosted faux apples.

Rustic holiday decorating scheme
Natural pine floors complement the rustic decorating scheme for the holidays. The homeowner's houseplants were the starting point for the green-on-white theme.

Exterior vignette
A layered exterior vignette is arranged with candlelit outdoor lanterns, evergreens and ornaments strung on bare branches, all on a backdrop of freshly fallen snow.

Antique cupboard
The antique corner cupboard was inherited from the homeowner's grandfather. It draws the eye and gives the living room presence and character.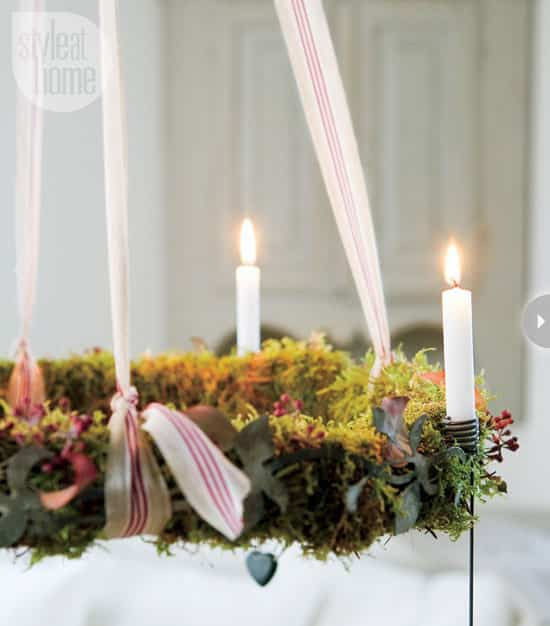 Moss-covered wreath
For a romantic touch, a moss-covered wreath lit with faux candles hangs over the coffee table.

Nativity scene
A nativity scene sits between two wooden bell towers.

Hand-made ornament
A hand-made Christmas ornament fashioned from an antique tart tin adorns the Christmas tree.

Antique French armoire
Even the antique French armoire in the kitchen gets a touch of holiday spirit with decorations from the homeowner's native Sweden.

Tiered candelabra
A tiered candelabra on a table beside the window is decked with traditional Scandinavian tin hearts, angels and coloured candles.

Welcoming kitchen
Ersatz Advent candles glow on the rustic pie safe. (Remember not to leave burning candles unattended.) Trailing houseplants grow up and over the window to create a garland effect in the welcoming kitchen.