Interiors
Interior: Sunny living and dining room
Interiors
Interior: Sunny living and dining room
"I'm lucky to be surrounded by inspiration every day. I get to work with a lot of talented people and see new products and trends before they're even made public," says
Style at Home
contributing design editor Christine Hanlon. "I've come to learn that
decor
styles change almost as quickly as fashion trends." That attitude serves her well, especially in her own home, where she can test out her latest
design
crushes without completely reinventing each room.
Play with patina
The classic
fireplace
is one of Christine's favourite features in the room. The wall sconces, chandelier and
coffee table
- moved from the family room to take pride of place here - all have warm golden tones that glow against the creamy white backdrop. Inexpensive Parsons tables on either side of the fireplace stand in for the built-in shelves Christine plans to install one day. The headdress above the mantel adds softness and movement to the space.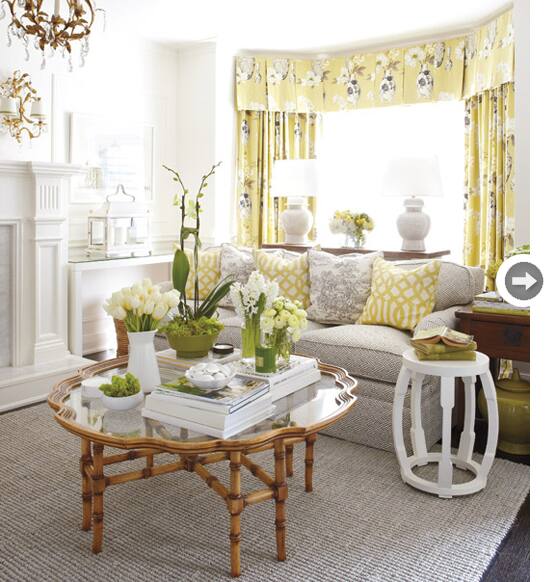 Inject colour
In her
living room
, Christine retained most of her core pieces but injected new life into the space with citrine (a shade she plucked from the runway). A laid-back aesthetic, fresh, sunny tones and Asian silhouettes give the classic framework refined, plush interest.
Make fabric flexible
Christine's choice of a modern geometric fabric on the
sofa
gives the piece a casual appeal, despite its traditional shape. The fabric reads as a solid neutral from afar, allowing Christine the flexibility to easily update the cushions should she want to.
Combine luxe & less
The treasured quartz cluster sculpture was a splurge, while the
vintage
white planter was a secondhand purchase. Christine loves to display a variety of
floral arrangements in a room
; she believes they add an essential touch to a fresh and inviting space.
Hit the books
"I love books and magazines anywhere, but they look especially great stacked on a
coffee table
, where they work as the foundation to showcase other
objets
," says Christine. A voracious reader of design books, Christine's arrangements are never in situ for very long.
Change up the classics
Christine's
dining room
before the updates was home to classic elements, such as the wood table, dresser and tall candlesticks.
Use a light hand
"Changing out the more traditional
chandelier
that used to hang here for a more delicate, chinoiserie-inspired one made such a dramatic impact right away," says Christine. Other classic elements were switched out for some relaxed slipcovered armchairs and a crisp
white
tablescape.
Create connections
To integrate the look between the living and dining rooms, Christine used the same modern graphic fabric that's on the
living room's
sofa and armchairs on the front of the
dining room's
sidechairs. They're in turn backed with the same delicate grey toile that graces the sofa's toss
cushions
. Christine used the same trick on the toile toss cushions, which are ingeniously backed with the sofa fabric.