Interiors
Interior: Vintage charm
Interiors
Interior: Vintage charm
Creating a home that was as fresh and breezy as the nearby beach was second nature to Joanna and Peggy. They, along with Miguel, are owners of Toronto's Au Lit Fine Linens and Liv by Au Lit. Anyone who has set foot inside these shops, with their soft, tousled linens and subdued neutral palettes, knows that imparting casual serenity is what these folks do best.

"There are variations from room to room, but overall the palette is a quintessential beach house one," says Joanna. With names like Beach Glass and Ocean Air, the paint colours set the tone. "Greyish greens, pale aqua blues and muted blue-greens… all of these come into play and then Mom makes them pop!" Joanna is referring to the unexpected hits of bright pink that appear in many of the rooms. Like cheery announcements, they prevent the house from seeming too demure and juxtapose the soft linens that beckon from beds and tabletops to settle in, settle down and relax.

Welcoming entryway
Large-scale wallpaper in the entryway has a gentle palette that bespeaks the Maine seashore beach style. White-painted antiques set the tone for the easygoing rooms within. A striped runner accentuates the length of the hallway and leads visitors to the fun. A painted antique chair in the hallway has swirls and curls, alluding to the wallpaper patterns behind it.
Dining room
"One day, I left the house and these chairs were white; when I got back, they were
turquoise
. That's what happens when my mom is around," says homeowner Joanna Goodman with a laugh.
Living room
Every surface in the room is quiet and gentle: Pale blue-grey walls and accents offset creamy white-painted furniture. Vintage floral
patterned fabrics
and the armchairs, covered in a sunny toile, provide sweet pops of colour.
Kitchen
interior
A once dark and narrow kitchen is now open and full of light; the oilcloth table covering is perfect for easy kid-friendly meals and activities.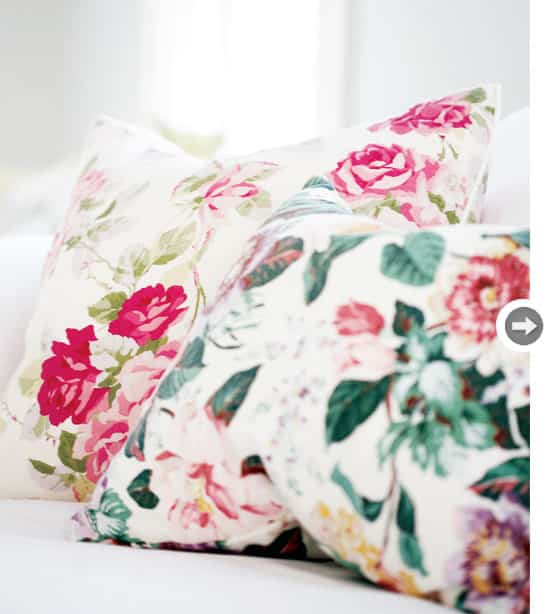 Pretty pillows
Vintage chintz
throw pillows
lend colour and pattern to the white sofa.
Eating nook

The casual
eating nook
was brightened up with Peggy Byron's handy paintbrush, which she used on the antique
essential chairs
and the plate rack.
Colourful cabinet

When Peggy painted the interior of this corner cabinet
bright pink
, Joanna was still in Toronto: "It's a good thing because I probably would've stopped her".
Shopping for antiques
A collection of vintage and antique finds, such as the cast-iron mirror and floral dinnerware, play to the
shabby chic style
throughout the house.
Soothing guest bedroom
The white-painted twin beds and bedside table, all antiques, are ready for the many family members who fill the rooms of the house every summer.
Dresser
Peggy discovered this vintage dresser at an auction in Maine – the pale-
blue colour
was a perfect fit for the home's breezy interior; need we mention that the house is filled with soft linens in every possible size, hue and fabric?

Bedroom
Talk about seaside comfort; tousled linens on an unmade guest bed beckon the sleeper to crawl back in; Peggy's bedroom is washed in pale light thanks to a great big window, soft blue walls, a vaulted ceiling with exposed beams and just a whisper of colour on the bed and rug.

How to make the perfect bed
As the owner of Au Lit Fine Linens, Joanna Goodman knows a thing or two about making the bed a cozy haven.

1 Sheets
Choose quality. Joanna recommends Egyptian cotton sheets in your favourite thread count (her favourite is 410 – crisp with a soft hand).

2 Pretty pillows
"Pillows can make or break the quality of your sleep," says Joanna.
Choosing the right pillow really comes down to personal preference, so make sure you try them out in the store.

3 Duvet
Look for signs of quality: A good duvet should feel light and airy, as well
as warm and cozy. The best duvets are filled with pure goose down and
sewn in a baffle box to avoid clumping.

4 Duvet cover & shams
"The bed is the focal point of your bedroom, so I always recommend that you fall in love with your duvet cover," says Joanna. Don't worry about trends; choose quality linens that evoke serenity and calm to enhance sleep.

5 Bedskirt
Wraps around the frame of the bed to hide the box spring. Aesthetically,
it can be tailored, with or without pleats, or gathered for a more feminine look.

6 Toss cushions & throws
"Here's your chance to go crazy with colour and pattern," says Joanna. A fabulous decorative cushion or colourful throw can bring a room to life!

Add art on a budget
Also found at an auction, this framed display of Victorian valentines caught Peggy's eye.

Get the beach house look in your own home with our 10 ways to get shabby chic style.