Interiors
Interior: Winter whites
Interiors
Interior: Winter whites
"Simplicity is the ultimate sophistication." So said Leonardo da Vinci, and who are we to question a genius? That sentiment might have been designer Colleen McGill's mantra when she redesigned this home for a family relocating from London, England, to Toronto's Rosedale neighbourhood. The design is simple and sophisticated, but glamourous, too. In such a refined space, a little sparkle and polish go a long way.
Foyer
The foyer vignette -- an oversize mirror, clean-lined Lucite console and ultramodern chandelier -- instantly creates the fresh, young feel designer Colleen McGill wanted to impart on the traditional architecture, with the chandelier as the punctuation point. The elegant silver punch bowl holds an orchid for an understated seasonal display.
Sitting area
A pleasing symmetry deepens the restful feel of the sitting area. Although the palette is airy and light, judicious use of 'heavier' elements grounds the space. "Heavy, full silk draperies lend lustre and visual weight to the room," says Colleen. The 9' tall pre-lit tree is decked out with silver and white ornaments. Even the presents conform to the colour scheme, making them an integrated part of the decor. They look almost too pretty to unwrap...almost.
Beautiful banquette
"That wall could have been anything," says Colleen, though it's hard to imagine the room without the compelling banquette. It's covered in a creamy fine-ribbed fabric, and Colleen admits the upholsterer had a devil of a time with the project -- but it was clearly worth the effort.
Fireside seating
The tub chairs that adjoin the two seating areas can easily be flipped around for a party. Curvaceous elements, like the sconces and Barbara Barry Poodle table, have a young and glamourous energy against the classic moulding and traditional furniture arrangement. The garland of fresh greenery and a few sparkly bulbs offers holiday cheer and a punch of seasonal colour.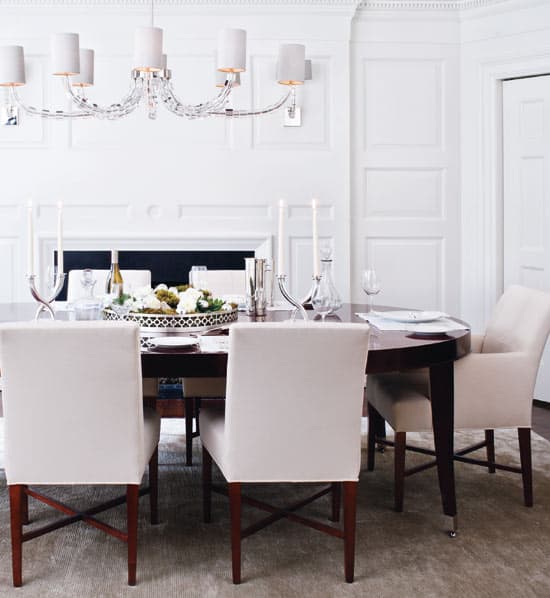 Dining room
With a more refined design, the dining room is clean-lined but not slick. The eight-arm chandelier balances classic design with a contemporary elliptical shape, creating interest and visual tension. The lush grey linen rug softens the space. A low botanical centrepiece feels modern.
Tips for creating a winter wonderland

Style at Home
design editor Christine Hanlon shares her tips for adding wintry polish to your home, like she did when decorating this one for the holidays.


To trim the tree,
nestle some ornaments
deeper into the tree and hang others on the ends of branches for visual depth.


Garlands need not be expensive nor fussy.
Do it yourself with boughs from a garden centre; tie greenery with wire and tuck in a few ornaments for sparkle.
A boxwood wreath is elegant
and modern, plus it can last years.
Create lush, contemporary floral arrangements
yourself. Christine used white roses, hydrangeas, moss and magnolia leaves. Try silver-colour ornaments and loosely-arranged blooms in silver containers, like a tray and punch bowl, to unify the arrangements.
Go pure white.
"Wrap everything in white paper for a clean, classic look that's less common at Christmas but has such impact," says Christine. Silver and white trimmings add sheen and textural interest.